May 10, 2010
Oat and currant scones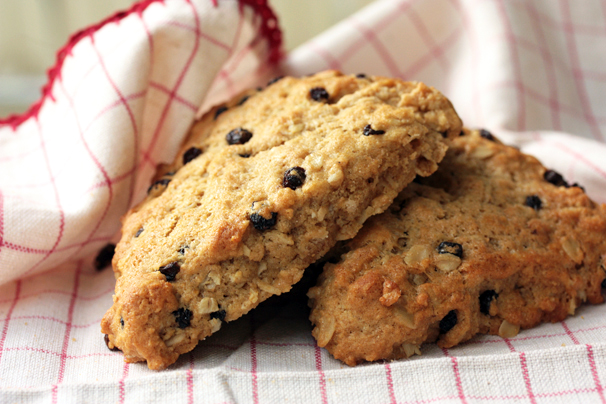 Years ago, I made scones using a recipe that called for a whole stick of butter, along with some heavy cream. I can't eat those rich, buttery scones anymore, but this heart-healthy version is just as crave-worthy. Since they're made with oil rather than butter, they're they're a bit more cake-y than traditional scones. But my taste testers did not complain.  In fact, they didn't utter a word – they were too busy wolfing these down.
Next time I make scones I want to try adding some orange zest into the batter.  If you make this recipe, try that and report back, ok?
Oat and Currant Scones
1 cup old fashioned rolled oats
3/4 cup whole wheat pastry flour
1/2 cup all purpose flour
1/4 cup packed brown sugar
1 teaspoon baking powder
1/2 teaspoon salt
1/2 cup organic canola oil
1/2 cup nonfat yogurt
1 egg
1 teaspoon vanilla
1/3 cup dried currants
For glaze:
2 teaspoons fresh lemon juice
2 tablespoons confectioner's sugar
Heat the oven to 375 degrees.
Mix the dry ingredients in one bowl. Whisk the oil, yogurt, egg and vanilla in another. Combine the two, stirring briefly. Let the batter sit for 5 minutes, then fold in the currants.
Pat the dough into an 8-inch round on a baking sheet sprayed with cooking oil spray. Cut into 8 wedges with a knife, using a spatula to move each wedge away from the circle to space them apart. (This may be a little tricky, as the dough is quite wet.)
Mix the lemon juice and confectioner's sugar and brush a small amount of glaze on the top of each scone. Bake for 18 minutes, or until the scones are lightly golden.
Makes 8 scones