Apr 5, 2010
Sesame soba noodles with asparagus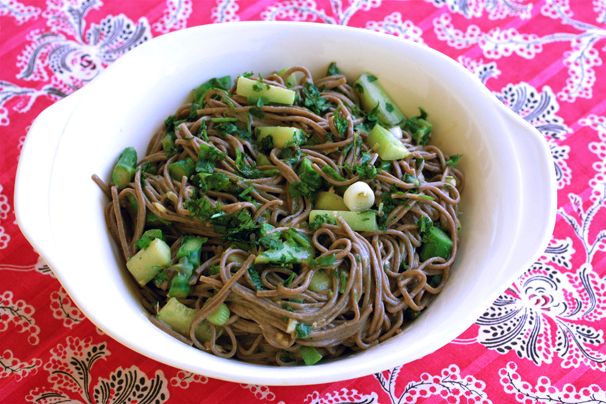 I've been craving sesame noodles but most versions are very gloppy, overly sweet and often made with large amounts of peanut butter. Don't get me wrong, I love peanut butter, but I wanted a pure sesame taste without the heaviness. So today I opted for two different types of sesame oil and a bit of tahini. The addition of lots of green stuff – cucumber, scallions asparagus and cilantro – made me feel like I was eating something "light", even if it wasn't quite true.
You can make this with Chinese egg noodles or spaghetti, but soba noodles contain whole grains in the form of buckwheat, so they're a better choice all around.
Sauce:
4 T. rice vinegar
3 T. low sodium tamari or soy sauce
2 T. mirin (sweet japanese cooking wine – available in most supermarkets)
1 T. sugar
1/4 t. cayenne pepper, or more to taste
4 t. minced fresh ginger
3 cloves garlic, minced
2 T. sesame oil
2 T. toasted sesame oil
2 T. tahini
10 oz. soba noodles
1/2 lb. thin asparagus, cut into 1/2″ pieces (snap off and discard tough ends)
1 cucumber, seeded and sliced into thin 1″ strips
4 scallions, sliced
1/3 c. chopped cilantro
Blanch the asparagus pieces in boiling water for 1 1/2 minutes. Drain, rinse in cold water and set aside.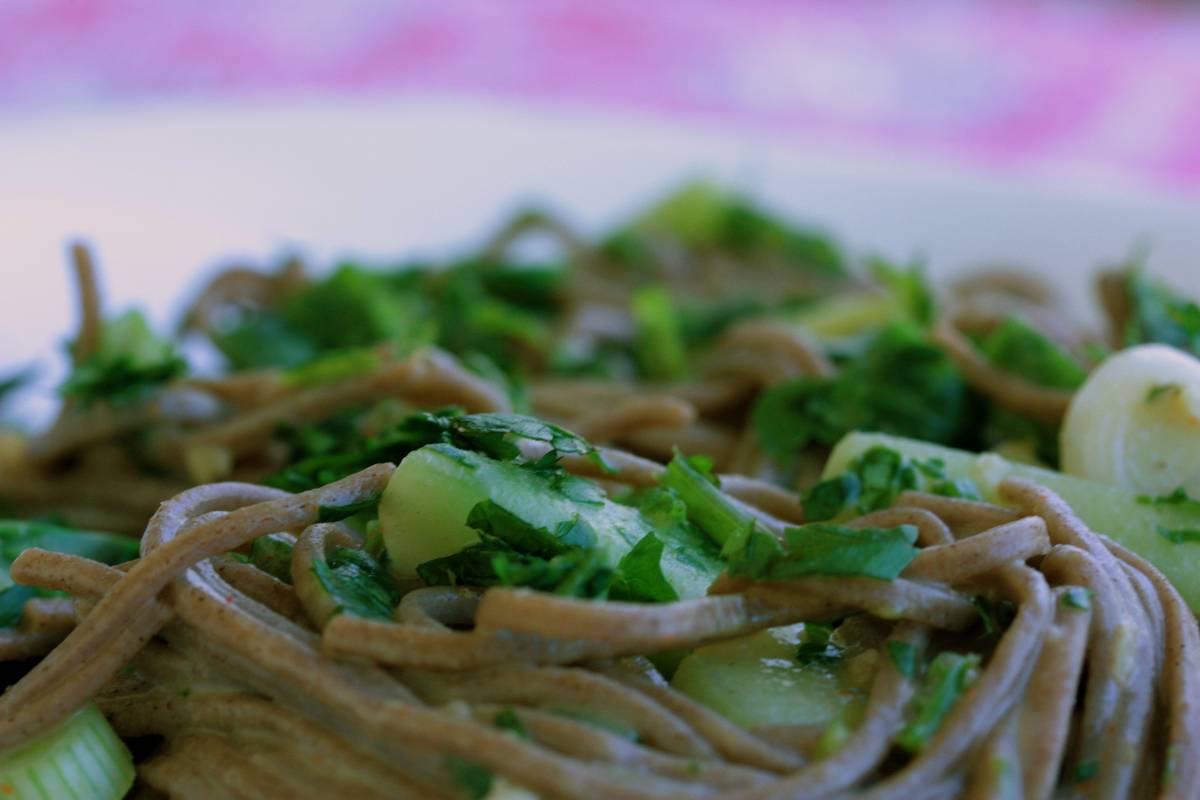 In a large bowl, thoroughly mix the sauce ingredients. Cook the noodles according to package directions, rinsing with cold water several times after draining. Combine with the sauce, then mix in the asparagus, cucumber, scallions and cilantro. Serve at room temperature.
Serves 6 as a side dish.