Nov 23, 2016
Vegan stuffing with sausage and pecans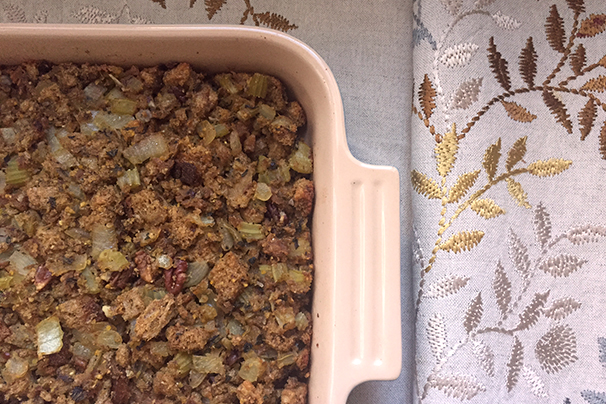 Talk about a last-minute blog post! I'm sure it's too late but just in case you're looking for an easy and delicious vegan stuffing recipe, I've got you covered.
Because vegan stuffing should be just as good as non-vegan, I added some unusual elements to boost the flavor, including nutritional yeast, tamari and vinegar (all optional but good.) I also love the addition of a vegan sausage, especially if you can get Field Roast brand – their smoked apple flavor is perfect here. For the bread, I used a whole wheat sourdough bread, with a little leftover cornbread mixed in, but any type will do.
I'm not one for sweet stuffings, so there is no fruit in this recipe. But feel free to add some sauteéd apples or dried cranberries, I'm sure they'd be great.
And if you're not a vegetarian/vegan, you can of course use butter and poultry stock here. I've been known to fall off the vegan wagon on Thanksgiving myself

I'm super happy with the way this recipe came out, so I hope you'll try it, even though you may already have a plan for tomorrow. It's easy and even the meat eaters will be happy, I promise.
Happy Thanksgiving, everyone!

Print
Vegan Stuffing with Sausage and Pecans
6 cups cubed whole grain bread (crust removed)
3 tablespoons extra-virgin olive oil
1 medium-large onion, diced
2 large stalks celery, diced
Any leaves from celery bunch, chopped
1 vegan sausage, crumbled (recommend Field Roast smoked apple-sage sausage)
¼ to 1/3 cup chopped pecans
2 tablespoons chopped fresh sage
2 teaspoons chopped fresh thyme leaves
2 teaspoons poultry seasoning
2 teaspoons low-sodium tamari
1 tablespoon nutritional yeast
2 tablespoons balsamic vinegar
¼ teaspoon salt, or more to taste
½ teaspoon freshly ground black pepper
1½ cups Imagine No-Chicken broth (preferred over other commercial vegetable stocks)
Preheat the oven to 275 degrees. Bake the bread cubes on a baking sheet until dry but not browned – this may take 30 minutes or longer.
Heat the olive oil in a large heavy pot over medium heat and sauté the onion, celery, celery leaves and sausage (if using) for 15 minutes or until the vegetables have softened. Add the pecans, herbs, tamari, yeast, vinegar, salt and pepper. Then stir in the bread. Add the broth and let the stuffing sit for five minutes. Then really squeeze the stuffing with your hands for 30 seconds or so to mix and break up the bread a bit (this step is key!) If it feels like there are still very dry pieces of bread in the mixture, you can add a tad more broth – this will depend on the bread you used.
Raise the oven heat to 350 degrees. Grease an 8-inch square baking dish with (vegan) butter or oil. Add the stuffing and cover with foil. Bake for 30 minutes, then uncover and bake 25 minutes longer, until the stuffing is crusty on top but not dried out.
Serves 6