Nov 16, 2010
Wild rice stuffing with cranberry, apricot and scallion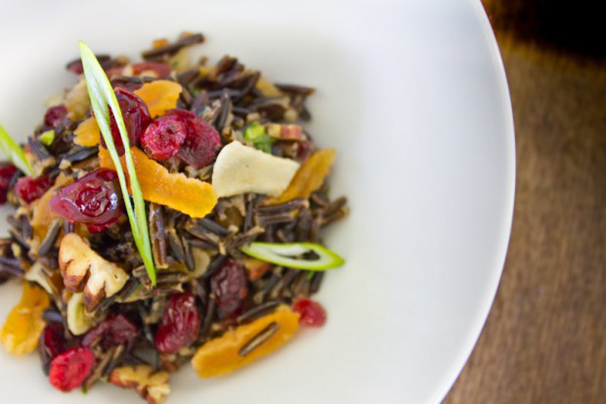 Here's another outstanding recipe from Catie Schwalb, who's an actual chef as opposed to a wannabe chef like me. Her recipes are so inspired and thoughtful, I'm thrilled to share them with you. I'm not sure whether I'd call this a stuffing, a dressing or simply a side dish, but whatever you call it, it's sure to be delicious. The colors alone make me swoon! – C.
When putting together her heart-healthy Thanksgiving series this year, Cathy asked me to work on a recipe for "stuffing made without meat or butter". Not an intuitive leap for this French Culinary Institute-trained, duck-fat-loving chef. In the spirit of Cathy's own recipes, I certainly wanted to stay far away from bland and boring, and in a season heavily saturated with recipes, I wanted to try to find a combination that didn't feel like a rehash of a menu we could each recite in our sleep.
I started musing on wild rice. Deeply flavored, elegant, and a little unexpected, it is also a really smart choice in the middle of a seemingly endless table of fatty simple carbohydrates. This nutty whole grain is not technically rice, but rather a seed from the aquatic grasses surrounding fresh water lakes in northern North America. It has twice the protein of brown rice, and almost eight times the protein of white, serving up 6.5 grams in one cooked cup, with 3 grams of fiber.
There is a rich mysterious aroma to the grains, reminiscent of tannins and black tea. I added tart dried cranberries and apricots, lightly pickled with white wine vinegar, which will offset the richness of turkey and gravy. This dish would also be wonderful for lunch the next day, as a cold rice salad with leftover pieces of turkey added, or made with chicken any time during the year.
Wild Rice Stuffing With Cranberry, Apricot, And Scallion
By Catie Schwalb, www.pitchforkdiaries.com
1 1/4 cups wild Rice, uncooked
2 1/2 cups stock, vegetable or poultry, or water
1/2 cup dried cranberries
1/3 cup dried apricots
2 tablespoons white wine vinegar, plus more to taste
6 scallions, green and white parts, thinly sliced, about 3/4 cup loosely packed
2 large garlic cloves, slivered
2 tablespoons olive oil
1/2 cup pecans, toasted and roughly chopped
Salt, to taste
Combine wild rice and 2 1/4 cups of stock, or water, in a pot. Bring to a boil, reduce to a fast simmer, cover and cook for 45 minutes. Remove from heat, let stand for 10 minutes, and then fluff with a fork.
In a small bowl, combine cranberries, apricots, 2 tablespoons white wine vinegar, and 2 tablespoons warm water. Set aside for about 20 minutes.
Saute scallions and garlic with olive oil, gently, until just wilted, but not browned.
Drain cranberries and apricots. Thinly slice apricots.
Combine cooked wild rice, pecans, cranberries, apricots, and scallion and garlic mixture, including all of the infused olive oil in the pan you sauteed them in. Season with a generous pinch of salt. Taste. If needed, add more salt, a few drops of vinegar, or a little warm stock if it feels too dry.
Can be served cold, at room temperature, or warmed in an ovenproof dish tented with foil.
Serves 6. Can easily be doubled or tripled.