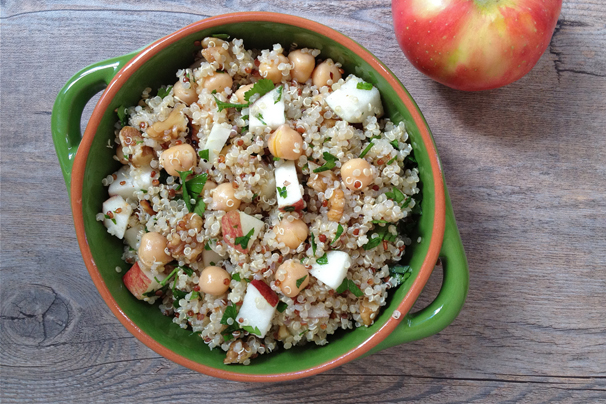 I've gotten a number of requests from gluten-free readers for alternatives to the usual bread stuffing.  While my Wild Rice Pilaf with Butternut Squash is an amazing gluten-free option, I wanted to come up with a new side dish that contained some protein – because protein is often lacking for vegetarians at Thanksgiving. Thus, this warm quinoa salad with chickpeas and walnuts was born. The apple adds just the right amount of sweetness (I would use a sweet apple rather than a tart one here, unless you want to add some dried cranberries for sweetness.)
This salad doesn't need to be limited to a gluten-free Thanksgiving table. It's so delicious, it will surely appeal to just about everybody. I can picture carnivores eating it cold with a turkey sandwich the day after Thanksgiving, too!
This is my sixth recipe for this year's Healthy Thanksgiving Challenge.
Warm Quinoa Salad with Apples, Walnuts and Chickpeas

1-1/2 cups quinoa
1 tablespoon finely minced shallots
2 tablespoons champagne vinegar (or white wine vinegar)
½ teaspoon Dijon mustard
3 tablespoons extra-virgin olive oil , divided
Salt and freshly ground black pepper to taste
1 large, crisp sweet apple, cored and diced
2/3 cup walnuts, coarsely chopped and toasted
1 cup cooked chickpeas (if canned, recommend Eden brand, for BPA-free cans)
1-2 tablespoons chopped flat-leaf parsley
Salt and freshly ground black pepper to taste

Place the quinoa in a medium saucepan with 2¼ cups cold water. Bring to a boil, then reduce heat, cover and simmer for 12-14 minutes, until done but still a bit crunchy. Set aside but mix with dressing while still somewhat warm.

To make the dressing, mix the vinegar, mustard and shallots in a bowl. Whisk in the olive oil. If needed, season with a bit of extra salt or vinegar.

Combine the dressing, apple, walnuts and parsley. Add salt and pepper if necessary. Serve warm or at room temperature.

Serves 6 as a side dish