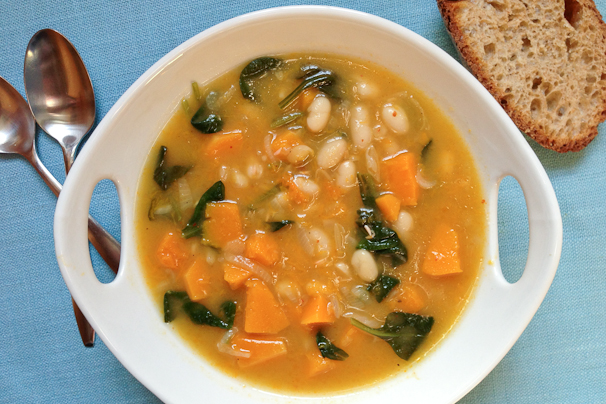 I feel a bit weird posting two soup recipes in a row – but hey, what else do you eat on a blizzard weekend?
Considering the weather, I wanted something warming and nutritious, so I started with an Alice Waters recipe (from The Art of Simple Food) for butternut squash and white bean soup. I went my own way with the additions of Aleppo pepper, spinach, dry sherry and sherry vinegar.  The effect is slightly different than the original, but I like to think Alice herself would approve.
This soup is one of my new all-time favorites – it's comforting without being heavy. Sometimes I get a bit carried away and make all of my soups very thick, almost like stews. I've left this one on the broth-y side, and it's lovely. Be thoughtful with your choice of broth here, because a standard tomato-tinged one would overpower this somewhat delicate soup. When I don't have a homemade vegetable stock on hand, I like Imagine brand No-Chicken Broth (and of course, you can use real chicken broth if you're not a vegetarian.)
I used spinach as an accent, but I could see trying it with Swiss chard or even broccoli raab. What greens do you think would be good here? Let me know and I'll give it a whirl.

Print

Butternut Squash and White Bean Soup

Adapted from Alice Waters'

The Art of Simple Food

1 cup dried cannellini beans
3 cups vegetable broth (see note above)
4 cups water
2 tablespoons extra-virgin olive oil
Pinch salt
1 bay leaf
¼ to ½ teaspoon Aleppo pepper
1/4 cup dry or medium-dry sherry
4 large thinly sliced shallots (about 1 1/2 cups)
1 medium butternut squash, cut into ½ inch cubes (about 4 cups)
1 5-ounce package baby spinach
2 teaspoons sherry vinegar

Rinse and soak beans in a large bowl of cold water overnight, or use the quick-soak method.  Drain and place in a medium saucepan with broth and water Bring to a boil, then reduce heat and simmer until beans are tender (the time will depend on how old your dried beans are).  Drain, reserving liquid.

Heat the oil over low heat in a Dutch oven. Add the shallots, bay leaf, salt and Aleppo pepper, then cover and cook for 15 minutes, stirring occasionally.  Raise heat, add sherry and cook for 30 seconds. Add squash and 6 cups of liquid (reserved bean cooking liquid plus additional broth if necessary.)

Bring to a boil, then reduce heat and simmer, partially covered, until squash is tender, then add beans and spinach. Simmer for one minute longer, then add sherry vinegar, add additional salt to taste and serve.

Serves 6