Dec 28, 2015
Spiced carrot-pecan muffins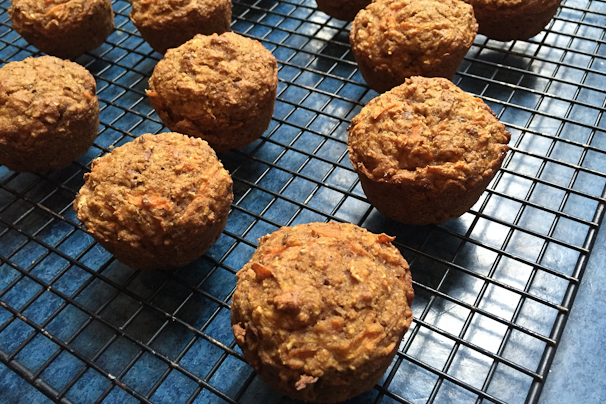 The reason behind these vegan carrot muffins lies in my refrigerator vegetable bin. I belong to a CSA that goes through late December, and by the holidays I was drowning in carrots, sweet potatoes, beets and turnips. I made a beet salad for Christmas Eve, carrot & sweet potato soup for dinner last night, and these carrot muffins today. I'm making a dent … in everything but the turnips.
I started with the spiced carrot muffins on FatFreeVegan.com, and made some adjustments – namely adding extra spices, orange zest, oat flour and pecans. And while I didn't taste the original recipe for purposes of comparison, my version came out really well – hearty, spicy and just a tad sweet.
While these muffins do have some sugar in them, they are vegan, completely oil free and whole grain. I didn't feel too badly about eating two of them today!

Print
Spiced Carrot-Pecan Muffins
Dry ingredients:
1 cup whole wheat pastry flour
1/2 cup oat flour
1/3 cup packed brown sugar
scant ½ teaspoon salt
1 1/4 teaspoons baking powder
3/4 teaspoon baking soda
½ teaspoon ground ginger
1 teaspoon cinnamon
¼ teaspoon ground cardamom (optional)
¼ teaspoon ground cloves
½ teaspoon ground nutmeg
1 teaspoon fresh orange zest
1/3 cup chopped pecans, plus more for optional topping
Wet ingredients:
1 tablespoon ground flax seed whisked with ¼ cup water (see below)
1/3 cup maple syrup or agave nectar
1/3 cup unsweetened applesauce
½ cup plain almond yogurt (recommend Kite Hill brand)
1 teaspoon vanilla extract
1½ cups shredded carrots
Preheat oven to 400 degrees. Lightly oil a muffin pan.
Mix dry ingredients in a large bowl. Whisk together the flax and water, then microwave for 45 seconds. Combine the wet ingredients, including the flax mixture, in another bowl. Combine the wet and dry ingredients, stirring briefly to combine. Add the carrots.
Spoon the batter into the muffin pan (I found that there was enough batter for 11 muffins). Sprinkle the tops with additional chopped pecans if you'd like. Bake for 18 minutes.
Makes 11-12 muffins