Nov 2, 2015
Crustless vegan chickpea flour quiche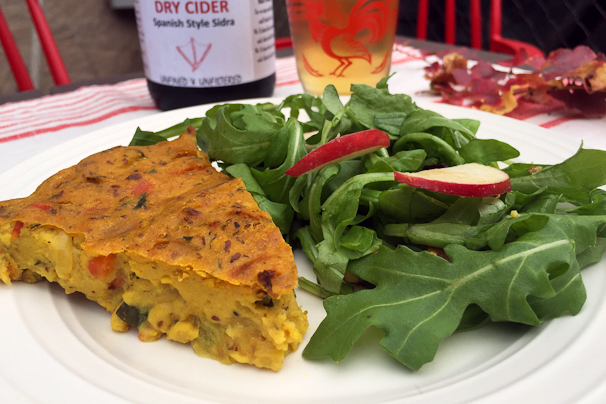 This dish is the perfect answer to the age-old question: "What can I make for a vegan and gluten-free brunch?" This quiche is not only vegan and gluten-free, it's delicious – omnivores will love it, too. And worry not, tofu haters, there's no soy. It's all chickpea (garbanzo bean) flour, a truly magical ingredient.
I have to say, I've always been a bit skeptical when people say chickpea flour can mimic eggs. But I think my quiche is proof positive. It's got just the right texture, and an eggy taste thanks to black salt. This Indian salt really does the trick, so it's worth seeking out.
There more reasons to love this thing:
• "Crustless" means it goes together in no time.
• You can vary the vegetables to your liking.
• It's great left over and eaten right out of the fridge.
Happy brunching!

Print
Crustless Vegan Chickpea Flour Quiche
2 teaspoons extra-virgin olive oil
1 medium red onion, halved and thinly sliced
1 medium zucchini, quartered lengthwise then sliced
1 red bell pepper, diced
1¼ cups chickpea (garbanzo bean) flour
1 tablespoon ground flax seed
3/4 teaspoon aluminum-free baking powder
2 teaspoons cider vinegar
3 cups water, divided
1 tablespoon chopped fresh flat-leaf parsley (optional)
2 teaspoons Dijon mustard
3/4 teaspoon turmeric
1/4 teaspoon cumin
1 teaspoon chopped fresh thyme
¼ cup nutritional yeast
½ teaspoon sweet paprika
1/2 teaspoon salt (preferably black salt – kala namak)
Freshly ground black pepper to taste
Heat the oven to 375 degrees.
Heat the oil in a large saucepan over medium heat. Add the onion, zucchini and red pepper and sauté for 5-7 minutes.
In a medium bowl, whisk together the garbanzo bean flour, baking powder, flax, vinegar and 1 cup water and set aside.
Add the remaining water to the pan with the vegetables, along with the remaining ingredients, and bring to a boil. Whisk in the chickpea flour mixture and cook for 2-3 minutes, stirring constantly with a wooden spoon. The mixture will be very thick and heat should be high enough to keep it bubbling a bit.
Use a spatula to pour into a 9" pie plate (regular or deep dish). Smooth over the top with a spatula. Bake 30 minutes. Let cool before serving. May then be served at room temperature, or reheated.