Jun 22, 2015
Jerk chickpea burgers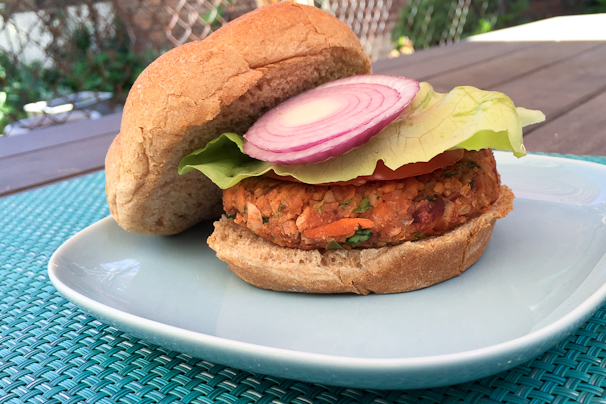 The other day, someone asked me, "When are you going to do a veggie burger recipe?"  As it happens, I had just perfected this baby: the jerk chickpea burger.
Veggie burgers can be a snore, but these got rave reviews at my recent backyard cookout. When developing this recipe, I was aiming for something super flavorful, and I think I hit that nail on the head. It does take a little while to grate/chop the vegetables, but if you have all the ingredients at hand, the burgers come together pretty easily. And they're so worth it – the jerk sauce adds a Caribbean twist, while beets and tamari almonds take this burger to another level altogether.
I'm sure the choice of jerk sauce makes a difference in these burgers so choose carefully. I picked some Miss Lilly's brand at Whole Foods and really like it, although the spicy variety is really spicy, so watch out!

Print

Jerk Chickpea Burgers

2 cans chickpeas, well drained
¼ cup Jamaican jerk sauce
1 tablespoon ground flax seed whisked with 1 tablespoon water and 1 tablespoon fresh lime juice
2 medium cooked beets, grated on the large holes of a box grater and squeezed dry (about ½ cup)
½ medium yellow onion, finely chopped (about ½ cup)
1 medium carrot, grated on the large holes of a box grater (about ½ cup)
1 fresh jalapeño pepper, finely minced
1/3 c. medium-coarse bulgur, cooked according to directions and well drained
1/2 c. whole wheat panko bread crumbs
¼ cup tamari almonds, well chopped (I pulsed in food processor)
2 tablespoons chopped fresh cilantro
1/4 teaspoon salt or more to taste
Generous amount of freshly ground black pepper
Whole wheat buns, red onions and romaine lettuce, for serving

Place the chickpeas, jerk sauce and flax-lime mixture in a food processor and process to a rough paste (can be slightly chunky).

In a bowl combine the chickpea mixture with the remaining ingredients, stirring well mixed. Refrigerate until read to use. Form into patties and grill on a well-oiled grate or vegetable tray. Alternatively, sauté in a skillet or brush with oil and bake at 375 for 10 minutes per side.

Serve on buns with additional jerk sauce, lettuce and sliced red onions.

Makes 8 burgers