Jun 4, 2014
Mushroom, asparagus and fava bean stew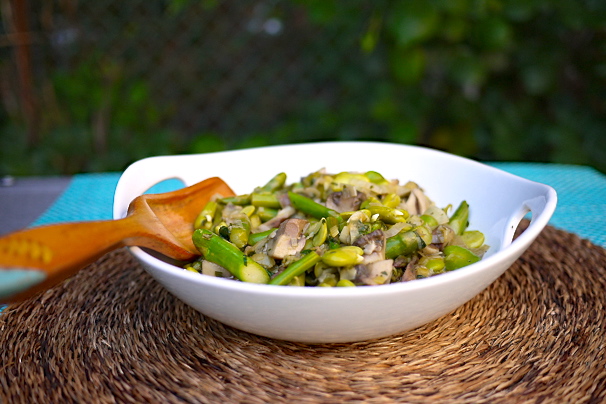 I have been sadly negligent about taking advantage of the amazing produce of spring this year. So when I saw beautiful asparagus and fresh fava beans yesterday, I grabbed them. After all, spring is almost over.
A recipe for Lemon Garlic Fava Beans and Mushrooms was my starting point for this vegan and gluten-free vegetable stew. I added wine, vegetable broth, asparagus and leeks for a lighter, more veg-centric dish. You can serve it as is, but it's also great with barley, polenta or a smallish pasta such as orecchiette (obviously not gluten-free if you serve on barley or pasta.)
Admittedly, preparing fresh fava beans is a bit of a pain, because you not only have to take them out of the large pods, you must then blanch them and remove each inner bean from its skin. But once you get the hang of it, it goes pretty fast. Think of it as meditation.
So if you've been walking straight past the fava beans at the farmer's market, stop and reconsider. This delicious stew will make you feel spring-y all over.

Print
Mushroom, Asparagus and Fava Bean Stew

2 tablespoons extra-virgin olive oil
1 cup thinly sliced leeks (white and light green parts only)
2 cloves garlic, sliced
10 ounces cremini mushrooms, quartered
3-4 ounces shiitake mushrooms, stemmed and sliced
½ cup dry white wine, such as Sauvignon Blanc
2 teaspoons chopped fresh thyme leaves
1 tablespoon chopped fresh flat-leaf parsley
2 cups vegetable broth (I recommend Imagine No-Chicken Broth)
2 to 2.5 pounds fresh fava beans, shelled, blanched and peeled
1 pound thin asparagus (woody ends broken off), cut into 1-inch pieces
Zest of 1 organic lemon
1 tablespoon fresh lemon juice
Salt and freshly ground black pepper to taste
Heat the olive oil on medium heat in a large heavy pot or Dutch oven. Add the leeks and sauté for 5 minutes. Add the garlic and mushrooms, raise the heat and cook for 5-7 minutes. Add the white wine and cook for 2 minutes, until most of the liquid has evaporated.
Add the thyme, parsley, broth, asparagus and fava beans. Bring to a boil, then reduce heat and simmer for 8 minutes. Add lemon zest and juice. Season to taste with salt and pepper, plus more lemon if desired, and serve.
Serves four