Jun 23, 2014
Another vegetarian chili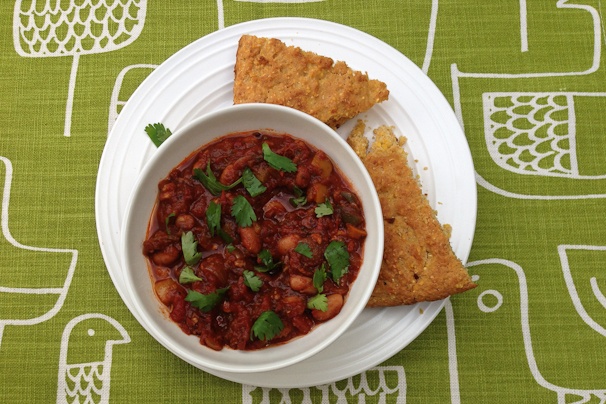 Pardon me, I just can't stop! I already have so many good vegetarian chili recipes (like this one and this one) but really, can there ever be too many? Today I wanted to make a chili that balanced fast and delicious, so I used fire-roasted tomatoes for smokiness, vegetarian chipotle sausages for texture, canned beans for convenience, and cilantro for extra flavor. And I've gotta say, this is a great addition to my chili collection.
It might seem odd to include molasses in chili. But the fire-roasted tomatoes can be quite tart and acidic, so it really helps balance things out.
To ensure that your chili is as healthful as possible, be sure to use organic bell peppers and celery (known to be some of the vegetables highest in pesticide residues) and BPA-free canned beans.
That's it. Over & out, short & sweet!

Print
Another Vegetarian Chili
4 cloves garlic
1 large handful cilantro (leaves and stems ok)
1 cup beer, any kind
2 teaspoons dried Mexican oregano
2 tablespoons extra-virgin olive oil
1 large yellow onion, diced
1 yellow bell pepper, diced
1 stalk celery, diced
3 fresh jalapeño peppers, minced
3 Field Roast chipotle sausages, crumbled
3 tablespoons ancho chili powder
2 tablespoons ground cumin
1/2 teaspoon cayenne pepper (omit if you want a milder chili)
2 28-ounce cans fire-roasted crushed tomatoes
2 teaspoons molasses
2 cans pinto beans, drained
1/2 teaspoon salt, or more to taste
1⁄2 teaspoon freshly ground black pepper
Toppings (optional): shredded cheese, avocado, nonfat or soy yogurt, chopped onions
Place the garlic, cilantro, beer and oregano in a food processor and process until smooth.
Heat the olive oil over medium heat in a heavy pot or Dutch oven. Raise the heat to medium-high and add the onions, bell pepper, jalapeños and sausages. Sauté for 8-10 minutes, stirring frequently, until vegetables are soft and starting to brown.
Reduce the heat and add the chili powder, cumin and cayenne, cooking for 2 minutes longer, stirring constantly.
Add the tomatoes, molasses, beans, salt, pepper and pureed mixture. Bring to a boil, then lower the heat and simmer for 30 minutes. Adjust seasoning to taste and serve with your toppings of choice.