Mar 31, 2014
Vegan banana bread with walnuts and millet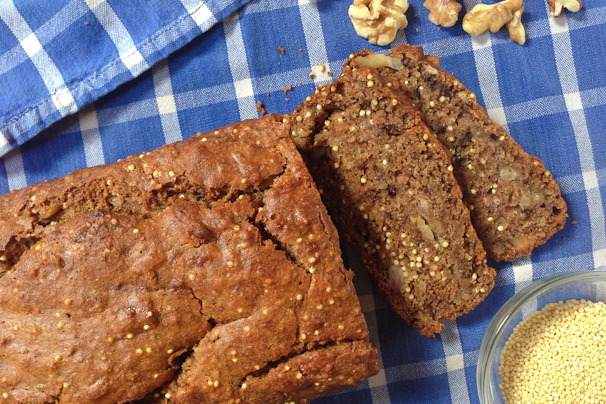 When my friend Francine raved to me about Smitten Kitchen's Crackly Banana Bread, I know I had to try and make a vegan version. It turned out to be an easy challenge, because the recipe didn't contain butter. So I just substituted a "flax egg" for the real one, and it worked like a charm. A few other changes: I added chopped walnuts for extra flavor and texture, and went easy on the sugar. I also used spelt flour, which I've been really liking in baked goods lately.
While the crunchy millet is great, I thought the bread seemed just a tad too millet-y – so I'm specifying a "scant" quarter cup here. And here's a tip: my banana bread-obsessed friend discovered that you can substitute a quarter cup of millet flour for an equally delicious but non-crackly version. (She also completely forgot to add the oil and still loved it!)

Print
Vegan Banana Bread with Walnuts and Millet
3 large over-ripe bananas
1 "flax egg" (see note below)
1/3 cup extra virgin olive oil or high-oleic safflower oil
1/4 cup packed brown sugar
1/4 cup maple syrup
1 1/4 teaspoons vanilla extract
1 teaspoon baking soda
1/4 teaspoon salt
1 teaspoon cinnamon
1/4 teaspoon freshly grated nutmeg
Pinch of ground cloves
1 1/2 cups spelt flour
1/4 cup chopped walnuts
Scant 1/4 cup uncooked millet
Note: for this egg substitute, combine 1 tablespoon ground flax seeds with 3 tablespoons water. Whisk vigorously, then refrigerate for 15 minutes, or in a microwave for 45 seconds.
Heat the oven to 350 degrees. Lightly oil a 9×5-inch loaf pan.
Mash bananas with a potato masher in a large bowl until smooth. Whisk in the flax egg, then oil, brown sugar, maple syrup and vanilla.
In another bowl, mix the baking soda, salt, cinnamon, nutmeg, cloves, flour, walnuts and millet. Stir the dry ingredients into the wet, and mix just until combined.
Pour mixture into prepared pan and bake 50 to 60 minutes, until a knife or tester comes out clean. Let cool completely before slicing.