Jan 20, 2014
Chickpea, barley and kale salad with pickled onions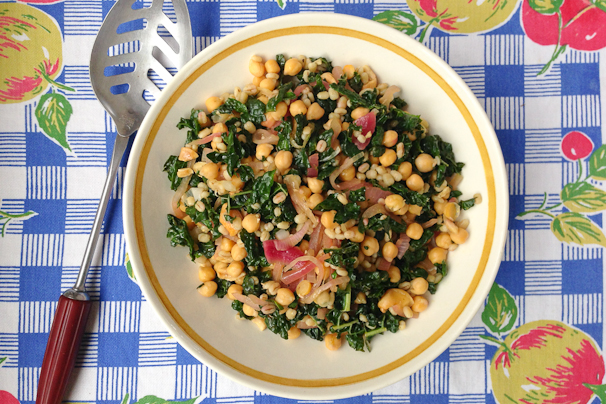 When I have leftovers to use up, I tend to throw things together a little randomly. Some of those experiments are very sad. Others, like this one, are a revelation. Yeah, this chickpea, barley and kale salad is that good!
Faced with big bowls of leftover chickpeas and barley, I recalled a simple chickpea, farro and kale recipe from theKitchn.com. Nice, but a tad boring. So I to give it a sweet-and-sour twist, along with some crunch. For the sweetness I could have reached for dried cranberries, but that's so expected. Pickled red onions and pomegranate molasses add a much more interesting dimension. A generous amount of lemon juice and zest provided the sour notes, and roasted nuts the crunch. One taste was all it took to make me swoon.

Print
Chickpea, Barley and Kale Salad with Pickled Onions
For pickled onions:
1 medium-large red onion, thinly sliced, then slices quartered
¾ cup red wine vinegar
1 tablespoon sugar
Pinch salt
For salad:
1 medium bunch of lacinato kale, stems removed, chopped well
2 tablespoons extra virgin olive oil
Zest and juice of one large organic lemon
1 tablespoon pomegranate molasses (or substitute balsamic vinegar plus a touch of honey)
3 cups cooked chickpeas
1½ cups cooked barley or farro (see note below)
½ cup roasted, salted cashews, roughly chopped (or substitute chopped tamari almonds)
Salt and freshly ground black pepper to taste
Bring the vinegar, sugar and salt to a boil in a small saucepan. Add the onions and simmer for 30 to 45 seconds. Let cool completely, then drain.
In a large bowl, combine the kale, olive oil, lemon zest and juice, and pomegranate molasses. Massage with your hands for several minutes.
Add chickpeas, barley or farro, cashews and pickled onions. Season to taste with salt and pepper – but go very easy on the salt, because the nuts are salted.
Note: You can use leftover grains here, but if cooking the barley or farro specifically for this recipe, cook less than the suggested time, to achieve a very chewy, al dente texture. Drain and rinse in cold water before adding to salad.
Serves 4-6