Nov 8, 2013
Spanish chickpea and spinach stew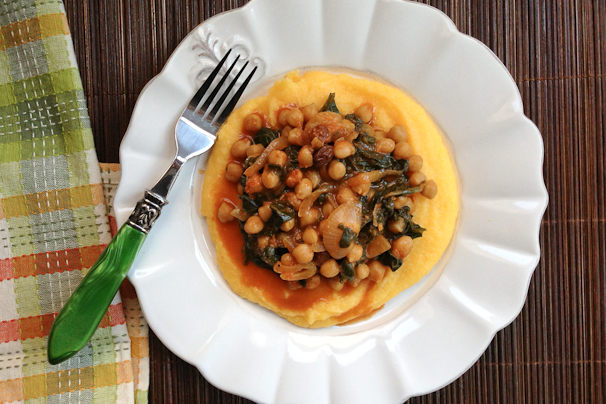 This is my riff on J. Kenji Lopez-Alt's lovely Garbanzos con Espinacas y Jengibre over on Serious Eats. I decided to make it less tomato-centric, instead relying more on the chickpea cooking liquid. Raisins, olives, saffron, cumin, wine and double paprika took it right to the top of Flavor Mountain.
Do try and cook the chickpeas from scratch, because the cooking liquid works very well here. But in a pinch, you can use two (BPA-free) cans of chickpeas plus their liquid, and some stock or water.
I love, love, love this stew and its intense flavors. If you're not a big fan of smokiness, or perhaps if you're serving this to children, you can skip the smoked paprika and even the olives.
I served this on soft polenta but it would also be good alongside olive oil mashed potatoes.

Print
Spanish Chickpea and Spinach Stew
2 large garlic cloves
½ teaspoon kosher salt
Pinch of saffron threads
2 teaspoons roughly chopped fresh ginger
2 teaspoons sweet paprika
1 teaspoon smoked paprika
1/4 teaspoon ground cumin
¼ teaspoon freshly ground black pepper
1 cup canned crushed tomatoes (BPA-free brand)
2 tablespoons extra virgin olive oil
1 large onion, halved lengthwise and thinly sliced
½ cup dry white wine or dry vermouth
3 cups cooked chickpeas
2 cups chickpea cooking liquid
12 ounces baby spinach (or chopped spinach)
¼ cup raisins
2 tablespoons sliced Spanish green olives (optional)
Sherry vinegar and olive oil, for drizzling
Combine the first 9 ingredients (through tomatoes) in a food processor and puree.
Heat 2 tablespoons olive oil in a large, heavy pot. Add the onions and cook over medium heat for 10 minutes, until soft and lightly browned. Raise the heat to medium-high, add the pureed mixture and cook for 3 minutes, stirring constantly.
Add wine, chickpeas and the bean cooking liquid. Bring to a boil, then reduce heat and simmer, partially covered, for 15 minutes. Add a little more liquid if it seems too thick.
Add spinach and raisins, and simmer for 5 minutes longer. Adjust salt to taste. Serve in bowls or over soft polenta, topping each serving with a generous drizzle of olive oil and a few drops of sherry vinegar.