Sep 7, 2013
Corn and tomato salad with sherry vinaigrette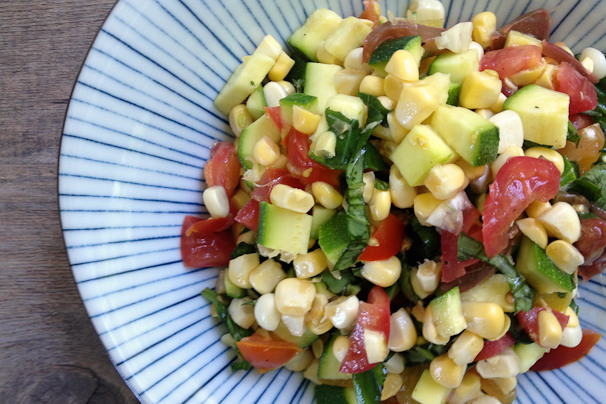 First, sorry for not posting much lately. I keep getting emails asking if something is wrong. No worries, I'm fine – just busy to a ridiculous degree. Sometimes, life trumps food blogging.
As a result, this post will be short and sweet. I wanted to share this salad, which you should make this week while there are still good tomatoes and corn. The success of this dish depends entirely on the quality of the ingredients. The fresher the corn and tomatoes, the better it will be. So get to the farmer's market!
I used tender baby zucchini in addition to the corn and tomatoes, but if there aren't any good zucchini around, you could substitute cucumbers. Either way, the sherry vinegar gives this salad a nice tang without overwhelming the vegetables. It's so delicious, I could eat the whole bowl in one sitting.
End-of-Summer Corn and Tomato Salad with Sherry Vinaigrette
Kernels from 4 medium ears corn, preferably just-picked
1 pint cherry tomatoes that have never been refrigerated, chopped
3 baby zucchini, diced small
1 handful fresh basil leaves, chopped
3 tablespoons extra virgin olive oil
1 1/2 tablespoons good-quality sherry vinegar, or a bit more to taste
Pinch salt
Mix all ingredients in a bowl and serve. Best served the same day, without refrigeration.