Jul 2, 2013
Vegan rhubarb, raspberry & blueberry tart with a hazelnut crust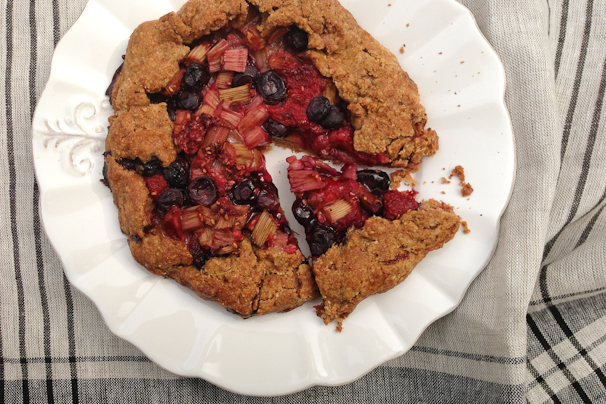 I'm trying not to eat sweets lately. But I had tons of rhubarb in my garden…now tell me, what was I supposed to do?!
I made a strawberry-rhubarb pie last week, and it was a bit of a letdown for some reason. So this week I decided to turn to one of my favorite crust recipes for inspiration and came up with this tart. With olive oil, hazelnut meal and sugar, this crust is like a sweet shortbread cookie – and surely one of the most delicious crusts ever, vegan or not.
I used rhubarb, raspberries and blueberries because I had them on hand. But you can make this tart with most any fruit combination you like. Since the crust is nicely sweet, I didn't add nearly as much sugar to the filling as I normally would. So it's an inversion of the usual unsweetened crust-sweet filling approach. I just love it.
This recipe makes two medium tarts, serving four to six people each. Or do as I did and make one larger one and one small. I took the extra tart to work for my colleagues. (Yes, they would really miss me if I left!) For the best crust texture, eat the tart the same day it's baked. If saving leftovers until the next day, just throw a paper towel over it rather than covering tightly.

Print
Rhubarb, Raspberry & Blueberry Tart
1½ cups whole wheat pastry flour
½ cup all purpose flour (or white whole wheat flour)
½ cup hazelnut meal
2/3 cup coconut palm sugar, divided
¼ teaspoon salt
¼ cup extra virgin olive oil
¼ cup hazelnut oil (or high-oleic safflower oil)
¼ cup cold water
3 cups sliced rhubarb
3 cups raspberries
1 cup blueberries
1 ½ tablespoons cornstarch
¼ to ½ teaspoon freshly grated lemon zest
½ teaspoon freshly grated ginger, optional
1 teaspoon raw (turbinado) or demerara sugar, for sprinkling
Heat the oven to 350 degrees.
Mix the flours, hazelnut meal, 2/3 cup sugar and salt. Gradually drizzle oil on top, mixing with your fingers until the mixture is crumbly. Gradually add water until the dough comes together (add a little more water if necessary.) Divide into two balls and set aside.
Roll out each ball of dough directly on a rimless baking sheet, to about a 10-inch diameter.
In a medium bowl, mix the fruit, remaining 1/3 cup sugar, cornstarch lemon zest and ginger (if using). Do not let the mixture sit for long – get it into the crust immediately.
Using a slotted spoon, transfer half the fruit filling onto each crust round, leaving an inch or more of dough uncovered. Spoon  the liquid from the bottom of the bowl onto the fruit, but don't use quite all of it – you want to moisten the filling but not to the point that a lot of juice starts running off the edge of the crust. Quickly loosen the dough all around the edge with a pastry lifter, then fold over gently with your hand. Sprinkle the dough edges with the raw sugar.
Bake for 45 minutes, until the dough is deeply golden and the filling is bubbling. Cool before serving.