Jul 15, 2013
Kale and kohlrabi salad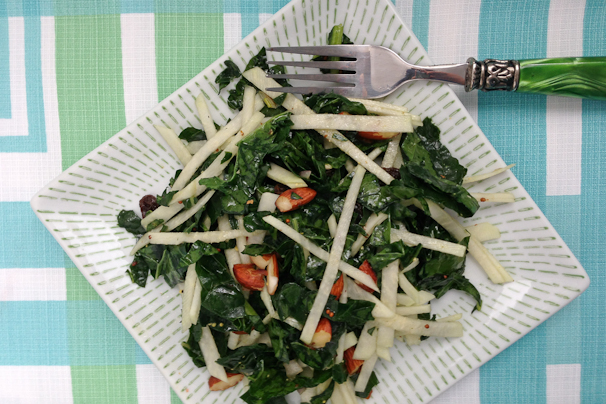 On a whim, I bought some kohlrabi to plant in the garden. Now, fast forward two months…uh-oh, the kohlrabi was ready to harvest. I stood there looking at this odd round vegetable with spiky stems coming out all over the place, and realized I had no idea what to do with it. My default with vegetables lately seems to be "throw it into a kale salad", so that's what I did today.
Turns out the combination of kale and kohlrabi is quite a nice one. The kohlrabi has a mild taste, and its crunchiness reminds me a bit of jicama. I added some toasted almonds and raisins for contrast, and a coarse mustard vinaigrette.
As you can see, I used the dark, distinctive-tasting lacinato kale, but any kind will do. You can feel free to vary the nuts and dried fruit to your liking. I'm sure pecans and cranberries would be delicious.
From the look and feel of kohlrabi, you'd think it was fairly low on the nutrition scale. However, I learned that it's a rich source of Vitamin C, as well as B-complex vitamins and potassium. Plus it's nearly calorie-free, at just 27 calories per cup. So this may be just the first of my kohlrabi experiments. I see a kohlrabi curry in my future….

Print
Kale and Kohlrabi Salad
3 tablespoons sherry vinegar
1 teaspoon coarse Dijon mustard
1 small shallot, minced
¼ cup extra-virgin olive oil
Salt and freshly ground black pepper to taste
One large bunch kale, stemmed and thinly sliced
1 medium kohlrabi, peeled and julienned (I sliced thinly with a mandolin, then cut into matchsticks)
¼ cup whole raw almonds, lightly toasted and coarsely chopped
¼ cup raisins or other dried fruit
In a small bowl, mix the vinegar, mustard, shallot, salt and pepper. Gradually add the olive oil and whisk well.
Place the kale in a large bowl. Top with the dressing and massage gently with your hands for about 20 seconds. Add nuts and fruit, and serve.
Serves 4