Jun 3, 2013
Farro salad with corn, black beans and mango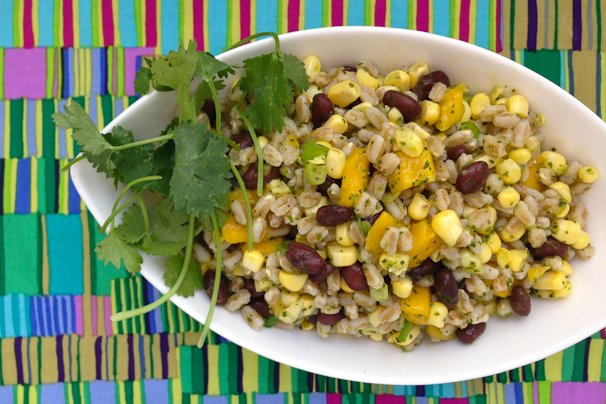 I woke up craving cilantro. Strange, but true. As I planned a Sunday night barbecue for a few friends, I could only think of things that contained cilantro. After way too much deliberation, I decided to make a farro salad packed with heart-healthy beans, sweet mango and fresh corn. I pureed cilantro into a lime vinaigrette and poured it over my ingredients.
I thought this would be good, but I must say, it's a "wow." It's destined to be my go-to grain salad for summer. It's super easy to make, and the flavors really pop. If you like foods that combine sweet and tart, you'll be a fan. And if you have a cilantro craving like I did, I promise it will be satisfied.

Notes:
Farro is Emmer wheat, a nutty tasting and distinctively chewy grain. If you can't find it, feel free to substitute barley in this recipe. Or use quinoa for a gluten-free dish.
The salad is far superior if served the same day it's made – preferably before any refrigeration. The flavors fade fairly quickly over time.
This recipe serves a big crowd. If you're just feeding four or five people, halve it.

Print
Farro Salad with Corn, Black Beans and Mango
1½ cups pearled farro (can substitute barley)
¼ teaspoon salt
2½ cups raw corn kernels (about 3 ears)
1½ cups cooked black beans
1 ripe mango, diced
1 bunch scallions, thinly sliced
Cilantro-lime vinaigrette:
½ cup extra-virgin olive oil
¼ cup fresh lime juice
½ cup (packed) cilantro leaves (small stems ok)
¼ teaspoon ground cumin
¼ teaspoon salt
Cook the farro with salt according to the package directions, then drain off any excess liquid. Be careful not to overcook – you want the farro to be very chewy.
Cool for 15 minutes, then place it in a large bowl and add the corn, beans, mango and scallions.
In a food processor, puree the olive oil, lime juice, cumin and salt. Pour over the farro salad and stir to combine.
Serve at room temperature (preferable) or refrigerate to eat later the same day. Refrigerated salad may need some additional lime juice, so taste before serving.
Serves 8-10