May 14, 2013
Vegetable tart with white beans and a chickpea crust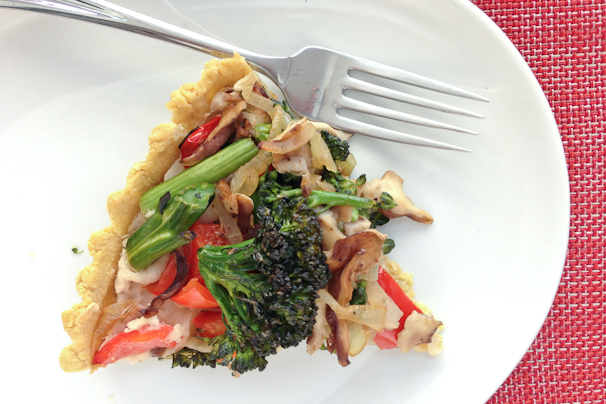 A quick post today to share with you a variation on my Caramelized Onion Tart with Greens and Cashew Cream. That tart was a game changer for me and has become a favorite among my friends. For this version I've cut down on the calories by using a layer of lemony pureed beans in place of the rich cashew cream. I also switched up the vegetables, and this combination of onions, red peppers, mushrooms and broccolini is another winner. Since it's spring, maybe you'll want to make a ramp and asparagus version – or use a fava bean puree as the base.
If you haven't tried a tart like this before, I really urge you to, because the chickpea flour crust is incredibly flavorful, and the dish can be served warm or at room temperature. It's perfect for your next luncheon (I always wanted to use the word "luncheon" – no one says that anymore!)

Print
Vegetable Tart with White Beans and a Chickpea Crust

For the crust:
1 3/4 c. chickpea (garbanzo bean) flour
1/2 teaspoon salt
1/4 c. extra virgin olive oil
1/4 c. cold water
For the bean layer:
1 can cannellini beans (use a BPA-free brand), drained and rinsed
¼ teaspoon salt
2 tablespoons lemon juice
For the vegetable topping:
2 tablespoons extra virgin olive oil
1 large yellow onion, halved lengthwise and thinly sliced
1/4 teaspoon salt
¼ teaspoon black pepper
2 cups chopped broccolini (also marketed as "baby broccoli")
1 red bell pepper, chopped
5 ounces sliced shiitake mushrooms (approximately 8 ounces before stemming and slicing)
To make the dough, mix the chickpea flour and salt. Drizzle the olive oil over the flour mixture and work together with your hands until crumbly. Add the water and mix very briefly, just until dough comes together (add an additional teaspoon of water if the dough seems too dry.)
Flatten the dough into a disk on a floured work surface.  Roll it out with a rolling pin to about 10 inches. Loosen the pastry by slipping a pastry lifter or metal spatula underneath. Fold in half and carefully transfer to a 9-inch tart pan, pressing it into the bottom and all the way up the sides.  (If the dough breaks, don't worry – you can just piece it together in the tart pan and press to shape.)
Heat the oven to 400 degrees. Prick the crust lightly with a fork and pre-bake for 10 minutes. Let cool slightly.
To make the bean layer, thoroughly puree the beans, lemon juice and salt in a food processor. If you have trouble making a smooth puree, add a teaspoon or two of water (I didn't find this necessary but it depends on the type of beans.)
For the vegetable mixture, heat the olive oil in a large deep skillet or Dutch oven. Cook the onions and salt over medium-low heat for 20 to 25 minutes, until soft and starting to brown. Add the broccolini and red bell pepper, raise the heat and cook for about 5 minutes, until the broccolini is just starting to get tender. Add the mushrooms and cook for 4-5 minutes or until mushrooms are soft. Stir in black pepper.
To assemble, top the partially-baked crust with the bean puree, then the vegetable mixture.  Return to the oven and bake for 20 minutes. Serve warm or at room temperature.
Serves 6