Mar 28, 2013
Red lentil dal with cabbage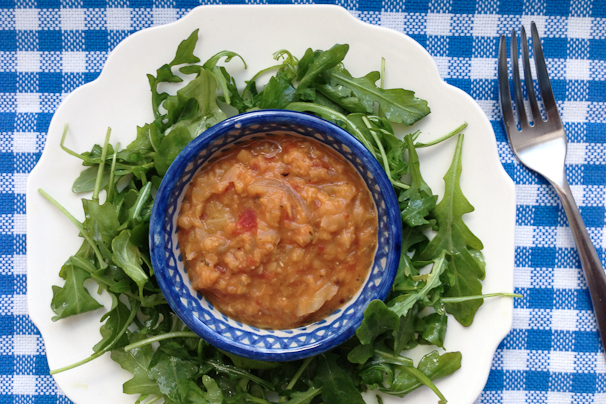 When I'm looking for an easy but flavorful dinner idea, I often think of dal. Served with a whole grain and some greens, it makes a delicious weeknight meal.
This time I wanted to include a green vegetable right in the dal for even more nutrition, so I adapted a recipe from Madhur Jaffrey that combines red lentils and cabbage. I've given the dish more complex spicing, with the addition of mustard seeds, asafetida and fenugreek, but it's still a mild-ish, kid-friendly dal. If you don't have the asetfetida and fenugreek don't fret, it will still be fine – but those spices are worth seeking out, as they provide a nice authentic Indian flavor.
I served this dal with quinoa and a simple arugula salad with a lime and cilantro vinaigrette. Not exactly an Indian spread, but it all went together really well.
Of course, red lentils are an excellent source of protein – without the fat of meat – and they're rich in fiber, folate, Vitamin A and other nutrients. The protein and fiber of lentils makes you feel fuller longer, so in addition to being heart-healthy, they are also a great choice if you're watching your weight. All of which makes me wonder, why do Americans seem to ignore lentils, while they're ubiquitous in many other cultures? Get on the lentil train, people!

Print
Red Lentil Dal With Cabbage
Adapted from Madhur Jaffrey, Indian Cooking
11/2 cups red split lentils (masoor dal), picked over, washed and drained
5 cups water
3 tablespoons high-oleic safflower oil
½ teaspoon black mustard seeds
1 tablespoon minced fresh ginger
3 cloves garlic, finely minced
3 small dried red chili peppers
1 medium onion, peeled and thinly sliced
½ small head of green cabbage, cored and thinly sliced or shredded (4-5 cups)
1 1/4 teaspoons ground cumin (preferably freshly ground)
1/2 teaspoon ground turmeric
½ teaspoon coriander or garam masala
Pinch asafetida (see note above)
1 teaspoon dried fenugreek leaves (see note above)
1 cup finely chopped or crushed tomatoes (I used Pomi chopped tomatoes)
1 teaspoon salt
Freshly squeezed lime juice, optional
Put the lentils and water into a medium saucepan and bring to a boil. Reduce heat and simmer for about 20 minutes, until lentils are very soft.
Heat the oil over medium heat in a large skillet. Add ginger, garlic, mustard seeds and red chili, and cook for 1 minute. Add onion and cabbage and cook, stirring frequently, for 10 minutes until slightly browned. Stir in cumin, turmeric, coriander or garam masala, asafetida, fenugreek and salt and cook for 30 seconds. Add tomatoes. Cook for 5 minutes, stirring frequently.
Add the cabbage mixture to the cooked lentils. Simmer 5 minutes. Taste, and if you want to add a bit more zip without adding more salt, squeeze in a little lime juice. Let the dal sit and thicken for 10 minutes or more, and reheat as necessary before serving.
Serves 4