Feb 5, 2013
Smoky pasta e fagiole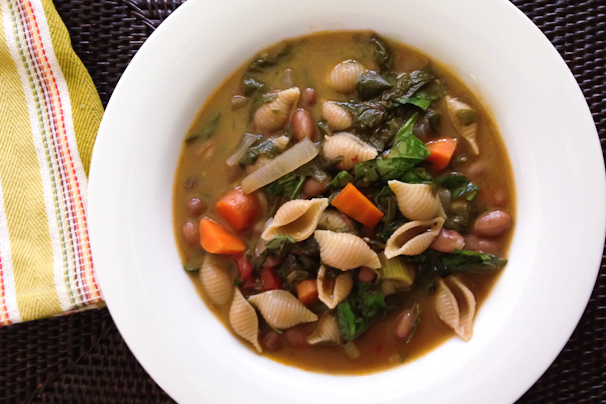 My story today is simple. I made a soup only using things I had on hand, which in this case was cranberry beans, leftover wine, a few vegetables and fresh herbs.
This was a big deal for me, because I decide what to cook without enough regard to whether I have what I need. Then I go to the store to buy the ingredients I'm missing (which inevitably ends up costing me at least $50, but that's a different blog post, about my inability to resist things at the grocery store.)
I had pasta e fagiole in mind, and wanted a smoky flavor to replicate that of pancetta. So I reached for smoked paprika, which gave the greens and beans a satisfying earthiness. Whole wheat pasta turned the soup into a hearty meal. This smoky soup is a delicious twist on the usual "pasta fazool."
I made this over the summer, but my friends pronounced this soup as best suited for fall or winter. So I'm sharing it with you now, so no one can accuse me of being season-inappropriate! If you do end up making this in the summer, you can substitute very ripe 2 fresh tomatoes (peeled and diced) for the canned.


Print

Smoky Pasta e Fagiole

2 cups dried cranberry beans
2 tablespoons extra virgin olive oil
1 large red or yellow onion, chopped
1 cup chopped carrots
1 stalk celery, chopped
3 cloves garlic, minced
¼ to ½ teaspoon crushed red pepper or Aleppo pepper flakes (use the greater amount of Aleppo)
½ cup dry white wine or vermouth
2 teaspoons chopped fresh oregano
½ teaspoon finely chopped fresh rosemary
4 cups vegetable stock (recommend Imagine No-Chicken broth here)
4 cups water
1 cup Pomi chopped tomatoes (or BPA-free crushed tomatoes such as Bionaturae or Muir Glen)
1 teaspoon smoked paprika
1 teaspoon sweet Hungarian paprika
½ teaspoon salt, or more to taste
½ teaspoon freshly ground black pepper
2 bunches Swiss chard, stemmed and chopped well
1 1/2 to 2 cups (dry) whole wheat pasta (such as ditalini or smallish shells), cooked until al dente

Soak the beans in a large bowl of cold water overnight, or use the quick-soak method.  Drain.  Place in a pot and cover with cold water by a couple inches. Bring to a boil, then reduce heat and simmer until the beans are just tender, about 1 hour.  Drain, reserving cooking liquid.

Remove 1 cup of beans and ½ cup water to a food processor. Puree until smooth.

Heat the olive oil over medium-low heat in a large Dutch oven. Add the onion, carrots, celery, garlic and red pepper flakes. Cook for 15 minutes, stirring occasionally.

Add wine, oregano and rosemary and raise heat to high and cook for until the liquid is evaporated. Add vegetable stock, water, tomatoes, paprika, salt and pepper.  Bring back to a boil, then reduce heat and simmer for 10 minutes, or until carrots are tender.

Add whole and pureed beans, and Swiss chard, and simmer for 5 minutes. Add the pasta and heat through. Season with additional salt and pepper to taste and serve.

Serves 6