Jan 15, 2013
Pumpkin-banana-cranberry-chocolate-pecan bread (really!)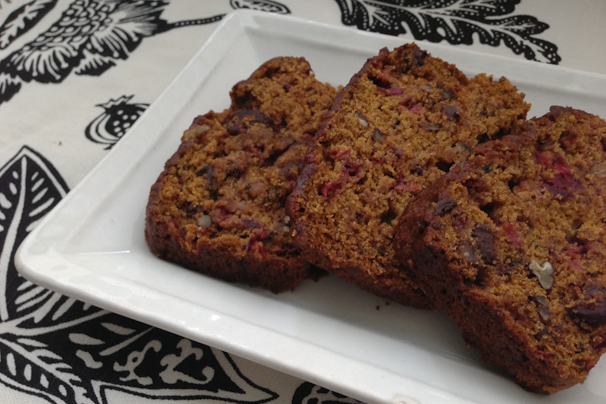 Here's what happened. I had little bits of lots of things. Two nearly-black bananas. A bit of canned pumpkin puree. Some chocolate chips. A handful of fresh cranberries. At first I thought of baking a few different things all in one weekend.
Pumpkin cranberry bread?
Chocolate chip cookies?
Banana pecan muffins?
But then, it came to me. Why not attempt a crazy kitchen-sink quick bread recipe?! The worst that could happen is that it would go into the trash. But if it succeeded, just think…it could become an internet sensation. I'd be famous!
Well, people, believe it or not this bread is awesome. I mean, I will make it again, even if it means buying lots of ingredients next time. OK, it may not make me famous, but it sure makes me happy. It's super moist, and the cranberries and chocolate play nicely with each other. Not sure you can taste both the banana and pumpkin individually, but the combination works.
So I urge you to give this recipe a try yourself. Or make up a version of your own. It's easy, you just have to go for it.
[Note: I waited too long to post this recipe – fresh cranberry season is over. But it will work well with frozen cranberries, so I hope you'll still consider making this wacky bread!]


Print

Pumpkin-Banana-Cranberry-Chocolate-Pecan Bread

2 tablespoons ground flax seeds
4 tablespoons water
1/2 cup sugar
1/2 cup brown sugar
2/3 cup pumpkin
puree
½ cup mashed super-ripe banana
3 tablespoons canola oil
1 teaspoon vanilla extract
1 cup whole wheat pastry flour
¾ cup all-purpose flour
1 teaspoon baking soda
1 teaspoon cinnamon
3/4 teaspoon salt
1/2 teaspoon baking powder
1 cup cranberries, roughly chopped (if frozen, do not thaw)
½ cup dark chocolate chips (60% to 72%)
½ cup chopped pecans

Heat the oven to 350 degrees.

Mix pumpkin, banana and sugars in a medium bowl. Vigorously whisk together the flax and water, and add to pumpkin mixture. Stir in the vanilla and oil.

In another bowl, combine the flour, baking soda, cinnamon, salt and baking powder, then mix into the wet ingredients. Fold in the chocolate chips cranberries and pecans.

Pour into oiled 9 x 5″ loaf ban and bake for 55-60 minutes, or until a knife inserted in the center comes out clean. Leave in the pan for 10 minutes, then run a knife around the edges and remove to a rack. Let cool before serving.