Jan 7, 2013
Farro risotto with delicata squash and mushrooms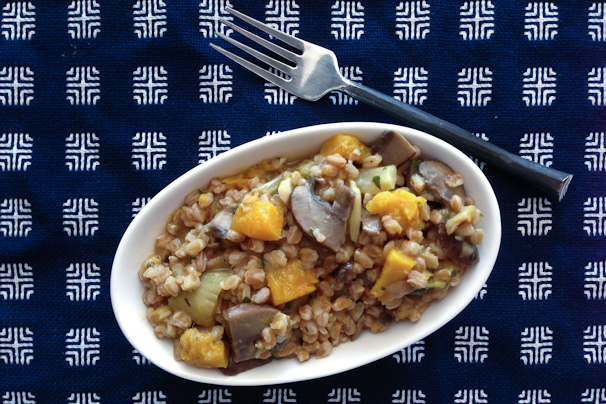 When I went to visit my father, who had just been released from the hospital, comfort food was definitely in order. Risotto came to mind, but it's generally laden with butter and cheese – a big no-no for my family of heart disease sufferers.
Luckily, it's easy to turn risotto from a "heart attack on a plate" to a nutritious meal. This farro risotto is the perfect example. It's super comforting, but completely guilt-free! It's got whole grains, vitamin-packed squash and mushrooms, and no dairy in sight.
I love the texture, too. The farro has the chewiness of barley, while the squash melts into the dish a bit, giving it a wonderful creaminess.  Every bite is sure to make you feel cheerier on a short winter's day.


Print

Farro Risotto with Delicata Squash and Mushrooms

2 tablespoons extra virgin olive oil, divided
1 delicata squash (about 1 ½ pounds), peeled and cubed
1 small fennel bulb
2 cloves garlic
1 medium yellow onion, diced
10 ounces mushrooms (shiitake, crimini or a combination)
1 1/2 cups pearled farro (can substitute barley)
1/2 cup vermouth
4 cups vegetable broth (plus more if needed)
1/2 teaspoon dried thyme, or 1 teaspoon fresh thyme
1/2 teaspoon salt, or less if your broth is salty
Black pepper to taste
2 tablespoons minced flat-leaf parsley

Heat the oven to 400 degrees.

Cut the base off the fennel bulb, cut a V-shape in the bottom to remove the core, and cube. Toss the squash and fennel with 1 tablespoon olive oil and season with salt and pepper. Place on a parchment-lined baking sheet and roast for about 30 minutes, until the vegetables are tender.

In a 4 quart saucepan, heat the remaining 1 tablespoon olive oil over medium heat. Add the onions and garlic and sauté 5 minutes. Add the farro and sliced mushrooms and sauté for 3 minutes.

Raise the heat, add the vermouth and cook until it has evaporated. Reduce the heat to medium-low and add ½ cup broth. Simmer, stirring frequently, until it is absorbed. Repeat this with the remainder of the broth, in ½-cup increments. It should take about 25 minutes; the farro should be cooked through but al dente.

Add the roasted squash and fennel, and simmer for three minutes longer, stirring occasionally and adding more broth if the risotto seems too dry.

Add parsley and black pepper, and serve.