Dec 10, 2012
Whole-Grain Vegan Cornbread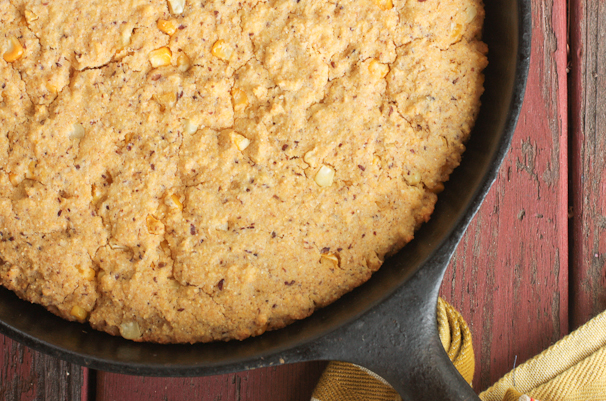 I can't believe I've never posted my favorite cornbread recipe. Well, better late than never.
This is based on a famous recipe published in Cook's Illustrated, called "Blue Ribbon Vegan Cornbread." It was created by an 11 year-old girl, who won a contest at the Iowa State Fair. I've made a few changes to the recipe, namely using a heart-healthy oil, substituting whole-grain flour, reducing the sugar and throwing in some fresh or frozen corn kernels (optional).
My other secret weapon is a roasted cornmeal called Brinser's Best. It's darker than most cornmeal, with a completely distinctive taste. My favorite ratio is half Brinser's Best, half regular stone-ground cornmeal. I'm not sure why, but the combination is just right in cornbread. Brinser's is made by a company called Haldeman Mills in Pennsylvania. One great thing about Haldeman is that they don't use genetically modified corn. Yay. I found Brinser's at the awesome Court Street Grocers in Brooklyn. Otherwise, I'm not sure where to tell you to look for it, as it's out of stock on Amazon. In any case, this stuff is worth the search.
I like to serve my cornbread with collard greens and Hoppin' John. Which reminds me, I haven't posted my recipes for those yet, either – maybe because they are completely un-photogenic. But I'll try someday!

Print

Whole-Grain Vegan Cornbread

2 Tbsp. ground flax seed
6 tablespoons water
1 cup whole wheat pastry flour (all-purpose flour works, too)
1 cup cornmeal (see above)
3 tablespoons sugar
4 teaspoons baking powder
3/4 teaspoon salt
1 cup soy milk
1/4 cup high-oleic safflower oil or extra-virgin olive oil
1/2 cup fresh or frozen corn kernels (optional)

Heat the oven to 425 degrees.

Spray a cast iron skillet with cooking oil spray and place in the oven 5 minutes before you are ready to put the cornbread in.

Vigorously mix the flax and water in a small bowl or mug, and microwave for 30-40 seconds, until thickened. Alternatively, bring the water to a boil in a small saucepan, add the flax and simmer for a few minutes.

Mix together the flour, cornmeal, sugar, baking powder and salt in a large bowl.

In another bowl, mix the flax mixture, soy milk and oil. Add to the dry ingredients and mix just until combined.

Add corn kernels, if using.

Pour the batter into the heated cast iron pan. Bake for 18-20 minutes, or  until a toothpick inserted into the center comes out clean. Let cool slightly before cutting.

Serves 8