Dec 21, 2012
Molasses-ginger cookies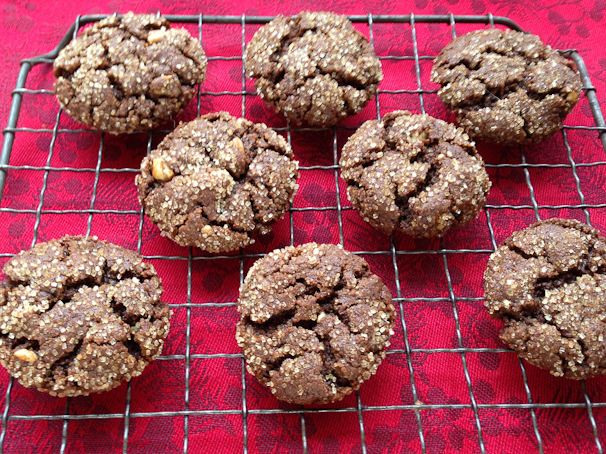 I started out with a good basic recipe for a vegan molasses cookie. Then I went and fiddled with it…again and again. I was out to make it a more "adult" cookie, and boy did I succeed. Some extra spices including a pinch of cayenne pepper, a little cocoa powder, espresso and pecans did the trick. I used heart-healthy whole wheat pastry flour and extra virgin olive oil (I very rarely use Earth Balance or vegan shortening – don't want the palm oil, etc.)
These are some intense cookies, and I mean that in the best possible way. Next time I might up the ante and add some fresh ginger, too. Watch out, kids!
I hope you'll make these for your next holiday party. You'll definitely blow the minds of any butter-lovers who taste them, because you'd really never know these are vegan cookies.
Two words of advice. First, make sure your spices are fresh. If you've had your ginger and cloves in the spice cabinet for over six months, buy some more. It really makes a difference, I swear.  Second, the brand of molasses seems to matter – a LOT. The first time I made these I used Wholesome Sweeteners Organic Molasses, which is a blackstrap type, and the cookies were appropriately intense.  The second time I used Grandma's brand and they had a milder taste that wasn't nearly as appealing. So it's worth seeking out a flavorful molasses.

Print

Molasses-Ginger Cookies

2 cups whole wheat pastry flour
½ cup sugar
1 tablespoon cocoa powder
2 teaspoons instant espresso powder
3 1/2 teaspoons ground ginger
½ teaspoon cinnamon
¼ teaspoon ground cloves
¼ teaspoon ground nutmeg, preferably freshly ground
Pinch cayenne pepper
Scant 3/4 teaspoon salt
½ teaspoon baking soda
2 teaspoons baking powder
¼ cup well-chopped pecans
½ cup extra-virgin olive oil
2 teaspoons vanilla extract
2 tablespoons non-dairy milk of choice (can substitute regular milk)
½ cup blackstrap molasses (see note above)
¼ cup demerara sugar

Heat the oven to 375 degrees.

Mix the dry ingredients (through pecans) in a large bowl.

In another bowl, whisk together the oil, vanilla, milk and molasses.  Add to the dry ingredients and mix with a spoon just until combined.

Form into 1-inch balls and roll in the demerara sugar. Place a few inches apart on a cookie sheet lined with parchment paper. Bake for 9 minutes. They may still look a bit wet inside, but don't worry.

Let cool on the baking sheet for 3 or 4 minutes, then remove to a rack and cool fully before eating.

Makes about 3 dozen cookies