Nov 5, 2012
Wild Mushroom Croustades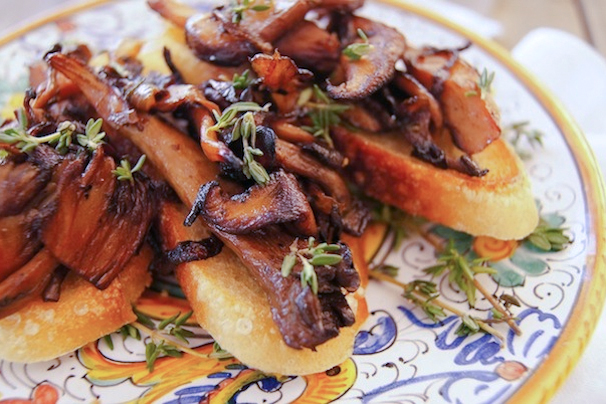 I'm excited to present a Thanksgiving Challenge guest post by Valentina K. Wein of the lovely blog Cooking on the Weekends. Valentina knows her stuff, people – she had her own catering business, ran Sur La Table's cooking program in Santa Monica and was a contributing recipe writer to the Los Angeles Times, Food Section. She now works as a recipe developer, and you can always find her Cooking on the Weekends.
This is the second recipe in my Healthy Thanksgiving Challenge. Be sure to take part, and while you're at it, enter to win one of three great cookbooks!
While Thanksgiving is a huge feast, it's still lovely to have hors d'oeuvres to serve friends and family before the main course. Often times, the "feast" doesn't make it to the table for a while after everyone arrives. (At my house, anyway.)
This is a wonderful heart healthy, Vegan Thanksgiving hors d'oeuvre!
It's the cooking technique in this recipe that brings out all of the rich, deep earthy flavors of the mushrooms. Each bite is hearty and oh-so-delicious!

Print

A Thanksgiving Hors d'Oeuvre: Wild Mushroom Croustades

3 tablespoons olive oil, divided
1 cup thinly sliced brown onion
2 medium-sized, finely minced garlic cloves
1 tablespoon finely chopped, fresh thyme, plus a couple extra sprigs for garnish
1-1/2 pounds fresh, mixed wild mushrooms, washed, dried and roughly chopped (I used Shitake, Maitake & Oyster)
1/4 cup dry sherry
Sea salt and freshly ground pepper to taste
1 medium to large French baguette

Preheat the oven to 375 degrees F.

Coat the bottom of a large sauté pan with 1 tablespoon of the olive oil and place it over medium-high heat. Add the onion and garlic and cook until the onions are caramelized, about 15 minutes.

Add the thyme, the remaining 2 tablespoons of olive oil, and mushrooms.

Turn the heat to low, and add the sherry. Then turn the heat to high and deglaze the pan with the sherry, scraping any bits of onion and mushrooms off the bottom of the pan, and back into the mixture. Cook for another 5 minutes or so.

Season with a bit of salt and pepper. Cover and set aside.

Cut the baguette into thin slices (about 1/4 to 1/2-inch) and place them on a baking sheet. Toast them in the preheated 375 degree F oven until they are beginning to turn golden.

Add 1 to 2 tablespoons of the mushroom mixture on top of each toast.

Serve warm with a bit of fresh thyme on top.

Makes about 1 dozen
Prep Time: 25