Nov 16, 2012
Sautéed Brussels sprouts & cabbage with toasted almonds and shallots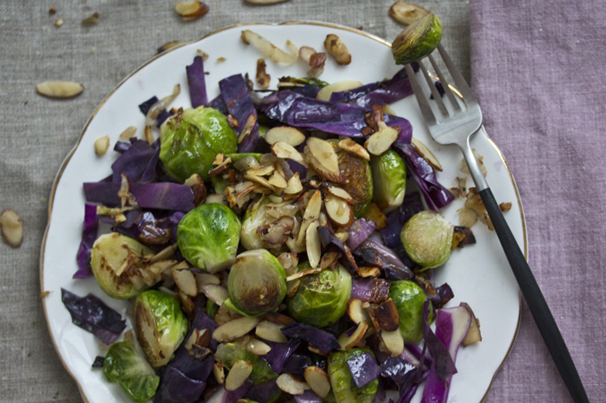 I'm so pleased to bring you a guest post from Jodi, the natural foods chef behind the truly lovely and inspiring blog What's Cooking Good Looking. My favorite quote from Jodi: "Ingredients taste best when they are in their purest form, so it is only natural that cooking with these types of foods will produce amazing meals." I couldn't agree more. And the awesome dish she brings us today is going to be on my own Thanksgiving table!
Brussels sprouts are one of my all time favorite vegetables. I understand that not everyone shares this same love, so if you are not a huge fan, try these. I promise they will change your mind. If you are already a lover, give this version a whirl. This has been my new go-to side dish and will surely be a staple at all of our holiday meals. The toasted almonds and red cabbage are such great compliments to the caramelized sprouts. I am certain this will be a favorite side on your Thanksgiving table.
This is the fifth recipe for this year's Healthy Thanksgiving Challenge. Be sure to take part, and while you're at it, enter to win some great cookbooks.
Happy Thanksgiving!

Print

Sautéed Brussels Sprouts & Cabbage with Toasted Almonds and Shallots

2 cups of Brussels sprouts, trimmed and sliced in half

2 cups of red cabbage, roughly chopped

3 tablespoons of grapeseed (or another high-heat oil)

¼ cup of slivered almonds

¼ cup of diced shallots

2 cloves of garlic, minced

salt + pepper

Heat 2 tablespoons of the grapeseed oil in a cast iron pan oven medium-high heat. Add the Brussels sprouts (I like to start them off cut-side down). Cook the sprouts for about 10 minutes, stirring occasionally, until they start to brown.

While the sprouts are cooking, heat up the remaining tablespoon of grapeseed oil in a small pan over medium heat. Add the shallots. Sautee for 3-4 minutes until clear and then add in the almonds and garlic. Cook for another 3-5 minutes until everything starts to brown, but be very careful not to burn the almonds or garlic. Remove from the heat.

Once the sprouts have started to brown, add the red cabbage and continue to sauté until the cabbage is tender. Turn off the heat and add the toasted almonds and shallots. Give it a good toss and then season with salt + pepper.  Serve warm.

Serves 6-8 as a side dish