Nov 18, 2012
Roasted Brussels sprouts with lime and chili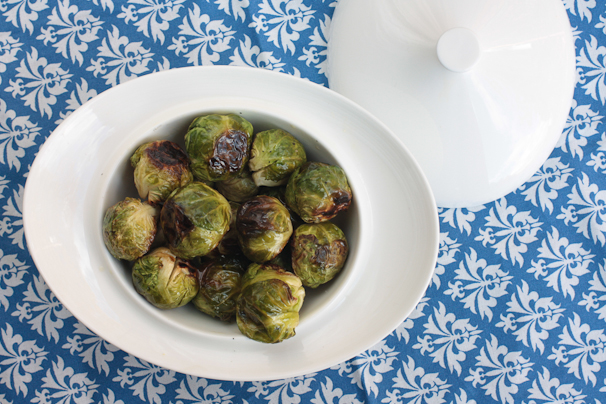 The Healthy Thanksgiving Challenge is officially over, but I have one more late-breaking holiday recipe for you.
I had an intense craving for Brussels sprouts but didn't feel like making my usual mustard-maple syrup vinaigrette version, as much as I adore that. Something simple like lemon sounded good, but…damn, no lemons in the fridge. I spied a lime and fearlessly forged ahead.
My friend Sharon, who was my cooking pal that day, said "What about some hot pepper flakes?" Well, I wouldn't have thought of that, but what the hell. I decided on Aleppo pepper flakes, which are a bit more subtle in their spiciness.
The dish is that simple – olive oil, lime and pepper flakes. With a slight tang and a hint of spiciness, I think these sprouts would add an interesting dimension to any Thanksgiving table. Maybe yours?

Print

Roasted Brussels Sprouts with Lime and Chili

2 pounds brussels sprouts, trimmed
3 tablespoons extra-virgin olive oil
Juice of two limes
1/4 to 1/2 teaspoon Aleppo pepper flakes (or 1/4 teaspoon crushed red pepper flakes)
1/4 teaspoon salt

Heat oven to 400 degrees.

Whisk together the oil, lime juice, chili pepper and salt. Toss with Brussels sprouts and place on one or two baking sheets.  Roast for about 40 minutes (or until well-browned), turning once halfway through.

Serves 8-10