Nov 8, 2012
Puréed winter vegetable soup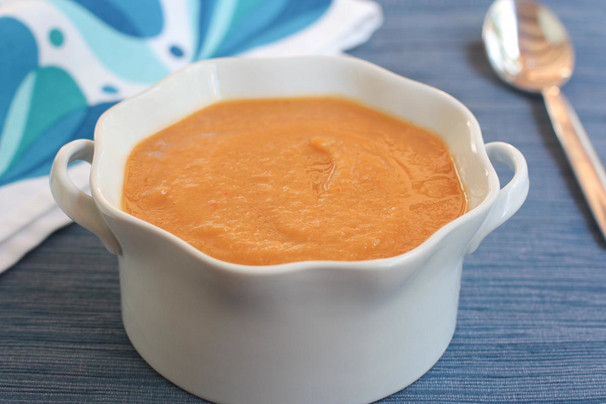 I love the idea of a healthy but luxurious soup to start off the Thanksgiving feast. But I keep the servings small, to avoid filling everyone up, and keep the soup simple, to warm up your tastebuds for the onslaught of flavors to come. This winter vegetable soup fits the bill perfectly. The clean flavor of the root vegetables shines through, and unlike many similar soups, it's not cloyingly sweet. And of course, it's not enriched with heavy cream or anything else to make it too heavy.
I bought a set of vintage mini-bowls that I think would be perfect for serving a soup like this on Thanksgiving. (Unfortunately I forgot about them before I shot this photo!)
This is the third of my Thanksgiving recipes for this year's Healthy Thanksgiving Challenge. Be sure to take part, and while you're at it, enter to win some great cookbooks.

Print

Puréed Winter Vegetable Soup

2 tablespoons extra virgin olive oil
2 cups chopped leeks, sliced
1 medium red bell pepper, chopped
2 cloves garlic
1 very large or 2 medium sweet potatoes, peeled and cubed
1 small celery root, peeled and cubed
1 carrot or turnip, peeled and cubed
½ cup dry sherry
4 cups vegetable broth (recommend Imagine No-Chicken stock)
4 cups water
1 teaspoon fresh thyme
½ teaspoon salt
1 teaspoon honey or agave nectar
Pinch freshly grated nutmeg
Black pepper to taste

Heat the oil over medium heat in a heavy pot or dutch oven. Add leeks, bell pepper and garlic. Cook until the vegetables are soft and starting to brown, about 10 minutes.

Add the remaining ingredients. Bring to a boil, then reduce heat and simmer until vegetables are very tender, about 40 minutes.

Let cool, then puree in a food processor or blender until very smooth, adding water or broth if the soup seems too thick.  Reheat and serve.

Serves 4-6