Oct 23, 2012
Wild rice and bread stuffing with roasted grapes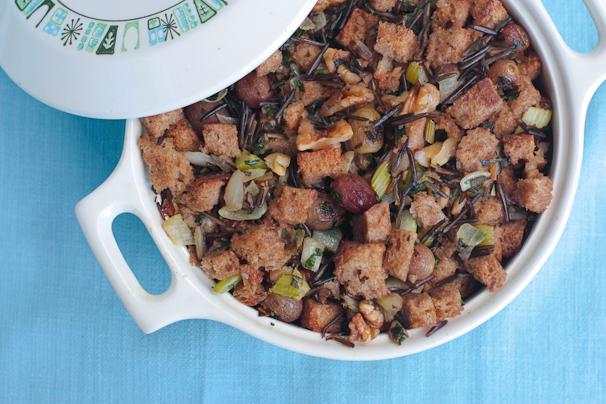 Roasted grapes are an underrated food in my book – they're sweet little nuggets of deliciousness. So when I was searching for a new twist for Thanksgiving stuffing, roasted grapes naturally came to mind. I also added pecans, and used wild rice in addition to the usual bread. Between the chewy wild rice, the slightly crunchy nuts and the soft, juicy grapes, this stuffing has textures galore.
Be sure to get real wild rice, harvested by hand from lakes in Minnesota or Canada. Read the label carefully, because some "wild rice" produced in Minnesota isn't necessarily the real thing. And pay special attention to the cooking time – you want the grains to open up but not be exploded like popcorn. (I cooked it too little this time, as you can see in the photo, and it was a bit crunchy!)
To keep the stuffing heart-healthy, I used a whole grain bread and olive oil, rather than the usual white bread and butter. This recipe is vegan, but if you're not a vegan you might want to add a couple of eggs, which would make the stuffing hold together more. But it's delicious either way.
This is the first of my Thanksgiving recipes for this year's Healthy Thanksgiving Challenge. Be sure to take part, and while you're at it, enter to win some great cookbooks.

Print

Wild Rice and Bread Stuffing with Roasted Grapes

1 cup wild rice (see note above)
6 tablespoons extra virgin olive oil, divided
2 ½ cups seedless red grapes
1 large onion, diced
3 ribs celery, diced
½ cup dry white wine, such as sauvignon blanc
1 one-pound loaf whole wheat sourdough bread, crusts removed, cut into ½-inch cubes (about 10 cups)
2 tablespoons fresh sage, minced
1 tablespoon fresh rosemary, minced
1 teaspoon chopped fresh thyme leaves
1/4 teaspoon salt
½ teaspoon black pepper
1 cup pecans, chopped and toasted
¼ cup chopped flat-leaf parsley
1 1/2 cups vegetable stock (recommend Imagine No-Chicken)

Cook the wild rice according to package directions, and drain off any remaining liquid at the end of the cooking time. Heat the oven to 400 degrees.

Toss the grapes with 2 teaspoons oil and bake on a rimmed baking sheet for 15 minutes. Lower the heat to 300 degrees. Place the bread on rimmed baking sheets and bake until dry, about 25 minutes.  Place in a large bowl.

Heat 1 tablespoon oil over medium heat in a large skillet. Sauté onions and celery for 5 minutes. Add wine and cook for 2-3 minutes.

Add to bread mixture, along with 4 tablespoons olive oil, herbs, salt and pepper, pecans, parsley, cooked wild rice and roasted grapes. Stir gently, then add broth. Place the stuffing in a baking dish.

Cover and bake for 20 minutes at 350 degrees, then uncover and bake for 15 minutes longer.

Serves 8-10