Sep 21, 2012
Vegan quiche with Swiss chard, corn and red pepper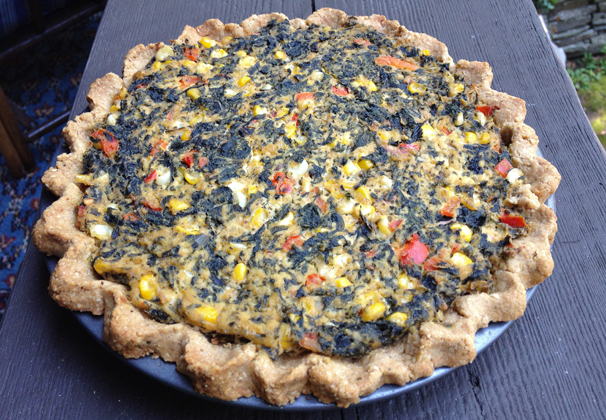 I'm always in search of good savory brunch recipes that don't include eggs, butter and cheese.  When I had a brunch for Brooklyn food bloggers a while back, I came across Heidi Swanson's recipe for vegan quiche. I simplified the cooking method to suit my "OMG, 20 bloggers are coming over this morning" mood, but otherwise left the recipe the same. With a sesame oat crust and a flavorful tofu, spinach and  mushroom filling, the quiche was very well-received at the brunch – even among the non-vegans.
I made the quiche a second time this summer when I needed something to take to a barbecue. I found an interesting variation on the recipe on the beautiful blog jugalbandi. Replacing the spinach and mushrooms with Swiss chard and corn sounded like a great idea, but I also added red bell peppers to highlight the sweetness of the corn.  I think there was some eye-rolling when I told people I was bringing vegan quiche, but let me tell you, it was a major hit. I actually made the original spinach and mushroom version along with this chard, pepper and corn version, and it was no contest. The new variation had worlds more flavor and zing.  Just goes to show….sometimes it pays to tinker with a recipe.

Print
Vegan Quiche with Swiss Chard, Corn and Red Pepper
Adapted from
101 Cookbooks
Crust:
1/2 cup rolled oats
3 tablespoons sesame seeds
1 cup whole wheat pastry flour or white whole wheat flour
1/2 teaspoon baking powder
3/4 teaspoon salt
1/2 teaspoon black pepper
1/2 teaspoon sweet paprika
1/2 teaspoon dried oregano
1/3 cup plain soy milk
1/3 cup extra virgin olive oil

Filling:
5 tablespoons extra virgin olive oil, divided
1 cup finely diced onion
1/4 teaspoon hot red pepper flakes, or more to taste
1 red bell pepper, diced
4 cloves garlic, minced
1 cup fresh corn kernels
1 large bunch (or 2 smaller bunches)  Swiss chard, stemmed and finely chopped
1/2 teaspoon fresh thyme leaves, chopped
1/4 teaspoon ground cumin
1/4 teaspoon salt
2 tablespoons dry white wine or water
1 pound firm tofu (use very high-quality tofu for this dish)
10-12 fresh basil leaves
1 teaspoon salt
2 tablespoons fresh lemon juice
1 tablespoon rice vinegar or cider vinegar
Paprika, for dusting
Heat the oven to 350.
Toast the oats and sesame seeds on a baking sheet for 7-8 minutes. Process the toasted oats and seeds in a food processor with the flour, baking powder, salt, pepper, paprika and oregano, until the mixture is finely ground. Place in a large bowl.
In another bowl, whisk together the soy milk and oil. Gradually mix into the dry ingredients to form a dough, holding back the final few teaspoons if the dough is in danger of getting too wet or sticky.
Spray a 9-inch pie pan or tart pan with oil. Put the dough in the pan and press down to fill the bottom and all the way up the sides (you can place plastic wrap on the dough to make this easier.) If using a pie pan, crimp the edges as shown in the photo.
To make the filling, heat 2 tablespoons of the oil on medium-high heat in a large skillet or dutch oven. Add the onions and pepper flakes and sauté for 10 to 12 minutes. Add the garlic and red bell pepper and sauté for 3 minutes. Add the corn chard, thyme, cumin, wine and 1/4 teaspoon salt, and cook for 2 minutes.
Crumble the tofu into the bowl of the food processor. Add 3 tablespoons olive oil, basil, lemon juice, vinegar and 1 teaspoon salt, and puree until very smooth. Add the puree to the vegetable mixture and gently mix well.
Fill the tart shell with the filling and smooth the top. Dust with paprika, if desired. Bake for 45 to 50 minutes, until firm. Let cool slightly before slicing and serving.
Serves 6