Sep 22, 2012
Heads up – October Unprocessed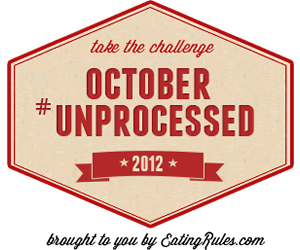 A lot of people say "I don't eat processed foods", but when they really think about it, and take a hard look at all of their food labels, they see a different story. We can all do better – myself included!
So this is just a quick reminder to take the October Unprocessed Pledge over at Eating Rules. My friend Andrew Wilder is doing an amazing job of encouraging thousands of people to eat zero processed foods for the month of October. You can do it, too – just take the pledge here.  You can read more about October Unprocessed in today's L.A. Times!
By the way, I'm doing a guest post for October Unprocessed with a great new chili recipe, so keep your eyes out for that early in the month.