Jul 9, 2012
Cauliflower, kale and white bean soup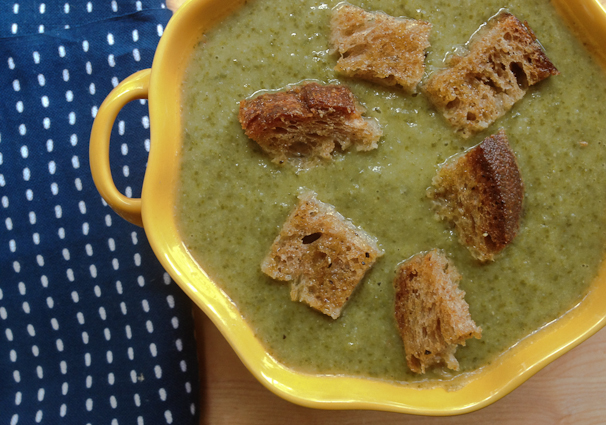 My friend Pam made me the Creamy Cauliflower Soup with Greens from Martha Stewart Living, and from that point on, I found myself craving it often. The soup was super clean-tasting – and so simple to make that it was kind of astonishing.
Tonight I was having people over for a casual dinner and it seemed like a soup kind of night. But since I was serving it as a main course, it needed it a bit more heft. So I added white beans, and also switched up the herbs, using parsley in favor of dill. I also added way more kale –  a whole bunch instead of a few leaves.
This is a vegan soup that non-vegans seem to universally love. It's got a nice smooth texture and is hearty while being completely virtuous. Homemade whole wheat croutons seem like an essential accompaniment.
Admittedly, with the addition of beans it's not the same bright green color as the original, but I think it's even more flavorful and satisfying. And I'm perfectly willing to sacrifice aesthetics for that. Aren't you?

Print

Cauliflower, Kale and White Bean Soup

1 cup dried white beans, such as cannellini or great northern, soaked overnight
2 tablespoons extra virgin olive oil
2-3 leeks, white and light green parts sliced (about 2 cups)
3 cloves garlic, chopped
¼ teaspoon crushed red pepper flakes
4 cups chopped kale leaves (about 1 medium bunch)
1 small head cauliflower, broken into florets
4 cups vegetable stock (recommend Imagine No Chicken broth)
2 cups water
2 cups bean cooking liquid, plus 1 more cup if needed
1 bay leaf
1 teaspoon salt
Freshly ground black pepper to taste
½ cup flat-leaf Italian parsley leaves

Drain the beans and put them in a pot with water to cover by two inches. Bring to a boil, then reduce heat and simmer until the beans are tender, about one hour. Drain, reserving cooking liquid.

Heat the olive oil over medium heat in a large pot or dutch oven.  Add the leeks and cook until very soft, about 10 minutes. Add the garlic and red pepper flakes, and cook for one minute more. Add the kale and cook, stirring, for five minutes.

Add the beans, cauliflower, stock, 2 cups of bean liquid, water, bay leaf, salt and pepper.  Bring to a boil, then reduce heat and simmer until the cauliflower is tender, about 12 minutes. Add the parsley. Remove the bay leaf.

Cool, then puree in a food processor until smooth. Add the extra cup of bean cooking liquid if it seems too thick. Return to the pot and reheat.

Serves 4-6