Jun 25, 2012
Vegan chive pesto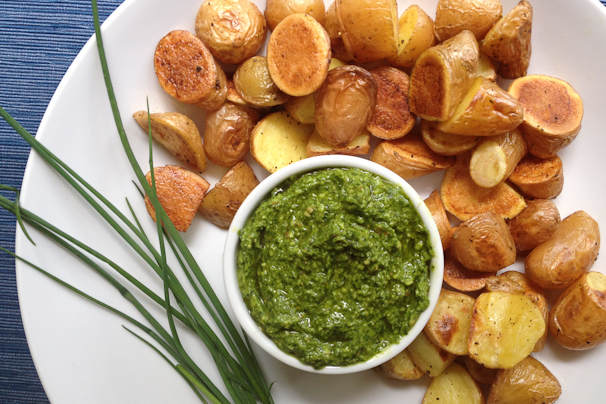 Every year my two beautiful chive plants leave me a bit stumped. What to do with so many chives?
This weekend I was determined to use a big bunch of them in one shot. The way to do that was clear: chive pesto. So into the food processor they went. In addition to the essential olive oil, lemon and garlic, I added parsley to give it a rounder flavor, plus toasted almonds, which I always use in my pesto. Since I don't eat cheese, I also included a bit of nutritional yeast. While it certainly doesn't taste like Parmigiano Reggiano, it does add a little something extra, including B complex vitamins.
I served this pesto with roasted fingerling potatoes, which was a perfect combination. As you can imagine from the photo, the flavor was super fresh and lively. Loved it!
The recipe as written uses 2 cups of chopped chives. I know that's a lot, so unless you're overflowing with chives like I am, feel free to halve the recipe. Or freeze some to use next winter when you're craving a burst of green.
Then again, you might find yourself eating this up rather quickly. It's lovely with eggs, stirred into white bean soup, or served on grilled tofu or salmon. If you have any other ideas, do send them my way. I have a lot more chives in the garden, just waiting to be picked.

Print

Vegan Chive Pesto

2 cups roughly chopped chives
1 cup roughly chopped flat-leaf parsley
½ cup extra virgin olive oil
¼ cup sliced almonds, toasted
2 cloves garlic, peeled
1 tablespoon fresh lemon juice
2 tablespoons nutritional yeast (optional)
¼ teaspoon salt, or more to taste
Black pepper to taste

Place all ingredients in the bowl of a food processor and process until smooth.