May 13, 2012
Red lentil and vegetable curry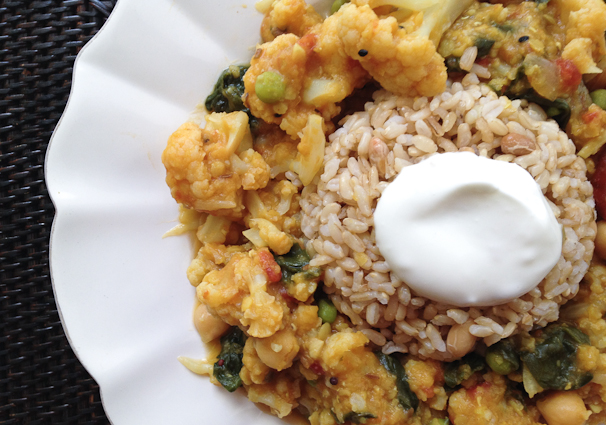 I was trying to come up with a one-pot Indian meal to make to go along with my usual Sunday night TV extravaganza (Mad Men! The Killing! The Good Wife! Girls!). Something like comfort food, Indian-style. I found my starting point with Fat Free Vegan's Cauliflower Dal with Panch Poran.
Panch phoran is a blend of five spices including cumin and fennel seeds. You can find it at any Indian store or on Amazon – or make your own.
I wanted to pump up the recipe with even more protein and vegetables – chickpeas, spinach, potatoes and peas did the trick. You can leave out one or two of the extra vegetables if you'd like, but I think the chickpeas are essential. If it seems strange to include both lentils and chickpeas, don't fret – the lentils dissolve and become part of the sauce. This stew is delicious served with brown rice and topped with a dollop of yogurt (or soy yogurt if you're vegan.)
Because I was looking for comfort food, I kept this curry on the mild side. Of course, it would also be great spiced up with more cayenne pepper. But maybe that's for a Saturday night instead of Sunday


Print
Red Lentil and Vegetable Curry
1 1/2 cups masoor dal or red lentils
4 cups water (or use half vegetable broth)
1 tablespoon organic canola oil or high-oleic safflower oil
1 rounded tablespoon panch phoran
1 large onion, diced
2 cloves garlic, minced
2 teaspoons finely minced fresh ginger
1 1/2 teaspoons ground cumin
1 teaspoon ground coriander
1 teaspoon turmeric
1/2 teaspoon cayenne pepper
16 ounces chopped tomatoes (recommend BPA-free Pomi brand)
1 head cauliflower, cut into florets
1 medium red potato, diced
1/2 cup water
3/4 teaspoon salt (or a bit more, to taste)
1½ cups cooked chickpeas (if using canned, I recommend BPA-free Eden brand)
5-ounce container baby spinach
1 cup frozen peas
Rinse the lentils and place them in a pot with the water. Bring to a boil, then reduce heat and simmer until the lentils are very tender, about 15 minutes. Set aside.
Heat the oil in a large pot over medium heat. Add the panch phoran and cook for a two minutes or until a seed pops. Add the onions, garlic and ginger. Cook, stirring, for 3-4 minutes, until onions are softened. Add the cumin, coriander, turmeric and cayenne pepper, and cook for about a minute.
Add the tomatoes, cauliflower, potato (if using), water and salt. Bring to a boil, then cover and simmer until cauliflower is tender, about 10 minutes.
Add the lentils, chickpeas, spinach and peas. Gently stir in the spinach until it wilts. Simmer 5 minutes. Adjust salt to taste.
Serves 6