May 24, 2012
Quinoa and beet salad with hazelnuts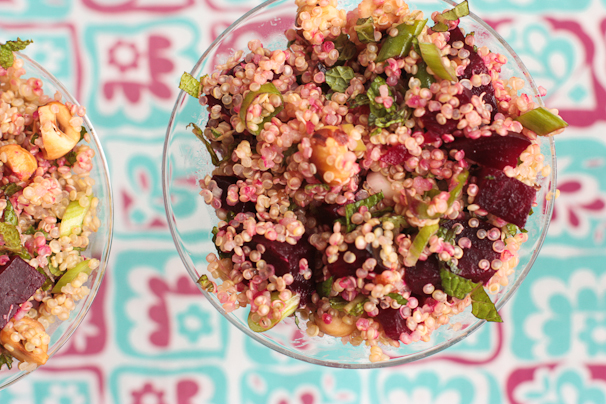 A few months back I made a salad with arugula, beets, oranges, avocados and hazelnuts. The combination of beets and hazelnuts was so delicious that I decided to create a quinoa salad using some of the same flavors. The result is a salad that's as delicious as it is pretty.
And let's not forget, this is a dish you can feel great about eating, because:
Beets contain powerful phytonutrients called belatains.
Hazelnuts serve up protein, vitamin E and "good fats".
Quinoa provides a complete protein, and is a good source of magnesium.
Now, if you're a regular reader of this blog, you might be wondering if I'm a little obsessed with beet salads. And nuts. And quinoa. The answer is yes…yes….and yes.  You got a problem with that?

Print

Quinoa and Beet Salad with Hazelnuts and Mint

1 cup quinoa
1 ½ cups water
¾ cup diced roasted beets
1/3 cup chopped roasted hazelnuts (or substitute pistachios or almonds)
¼ cup sliced scallions
¼ cup minced fresh mint
2 tablespoons extra virgin olive oil
2 tablespoons champagne vinegar or white wine vinegar
¼ teaspoon salt

Place the quinoa and water in a medium saucepan. Bring to a boil, then reduce heat and simmer for about 12 minutes, until you see the rings separate from the kernels of quinoa and it's tender-crunchy.  Set aside and cool.

Mix all ingredients together in a bowl. Eat.

Serves 4