May 7, 2012
Banana almond butter muffins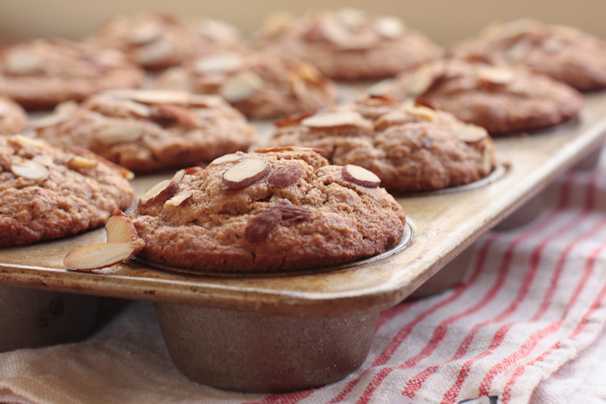 The first time I made muffins with nut butter and bananas, they were a bust.  I thought that since they contained bananas, a little bit of maple syrup would be enough to sweeten them. And I figured a few tablespoons of peanut butter would add a lot of flavor. Wrong on both counts. The result was a mediocre muffin that didn't taste like much of anything.
I quickly realized that this is one time when I couldn't skimp so much on the fat and sugar. So for round two I used more nut butter and sweetener, and switched to almond butter and brown sugar. I also added cinnamon to further boost the flavor. Bingo! These are terrific – the almond butter adds a lovely richness, and they're nice and crunchy on the edges. (Note that the muffins are at their best soon after baking – as they sit, the crunchiness goes away. Still good, though.)
So if you're in the mood for a slightly indulgent breakfast treat, these banana almond butter muffins will make you very happy.  And if you want to be absolved of any guilt, here you go: they're 100% vegan and whole grain.

Print

Banana Almond Butter Muffins

1 1/2 cups white whole wheat flour
3/4 cup oat flour (or grind rolled oats in a food processor)
1 ½ teaspoons baking powder
1/2 teaspoon baking soda
1/2 teaspoon salt
¾ teaspoon cinnamon
1 heaping cup mashed super-ripe banana
3/4 cup vanilla almond milk, curdled by adding 1 teaspoon white vinegar
3/4 cup packed brown sugar
2/3 cup smooth, unsalted organic almond butter
¼ cup high-oleic safflower oil
1 1/2 tablespoons ground flax seed vigorously mixed with ¼ cup water
1 1/2 teaspoons vanilla extract
¼ cup sliced almonds

Heat oven to 375 degrees.

In one bowl, mix the flour, ground oats, baking powder, soda, salt and spices. In another bowl, thoroughly combine the banana, almond milk, sugar, almond butter, oil, flax and vanilla. Stir the wet and dry mixtures together, combining only until mixed.

Spray a 12-cup muffin tin with cooking oil spray (I like Spectrum's canola spray with flour). Fill the cups nearly to the top, then top with sliced almonds. Bake for about 20 minutes, until they are golden brown and a knife inserted in the center comes out clean. Let cool before eating.

Serves 12