Apr 11, 2012
Cilantro-lime hummus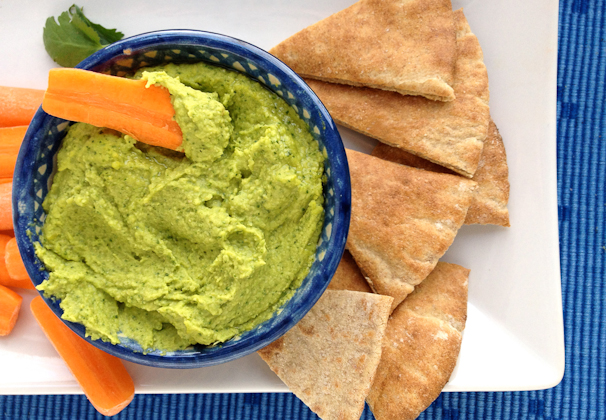 I've come to the conclusion that hummus is one of the most perfect foods. It has protein, fiber and all that jazz … and it's deliciously satisfying. But (isn't there always a but?) if you're eating standard-issue, store-bought hummus, it can get monotonous. And the ingredients in some brands can be questionable, especially when it comes to the kind of oil the commercial manufacturers use.
So I've sworn off store-bought hummus in favor of making my own every time. Here's why:
It's cheaper.
It tastes better. Always.
You control the ingredients, and the nutrition.
You can vary the flavor in endless ways.
It literally takes just a couple minutes.
I whipped up a cilantro-lime hummus, and I can't believe how good it is.  It doesn't contain any tahini, so it has a super light flavor and texture. I threw this fresh-tasting green dip together by the seat of my pants, and I urge you to do the same. I didn't give exact proportions in the recipe below, because you really don't need them.
And guess what happened when I brought this particular hummu into work? Two of my co-workers developed an unhealthy obsession with it (well, I guess it was a healthy obsession), and urged me to package and sell this green gold. But that would invalidate my no-storebought-hummus rule, now wouldn't it?!

Print

Cilantro-Lime Hummus
Put 1 1/2 cups of chickpeas into the bowl of a food processor.
Add about a quarter cup of extra virgin olive oil.
Toss in a big handful of cilantro (I have small hands….adjust if you are giant)
Add a clove or two of garlic.
Add a good pinch of ground cumin (fresher the better)
Squeeze in the juice of two limes.
Add a bit of salt.
Process until super smooth.
Serve with baked tortilla chips, pita bread, carrots or any other healthy dip vehicle.
Other unusual variations on the hummus theme, from my healthy blogger friends:
Beet Hummus from Lentil Breakdown
Black Eyed Pea Hummus from Lentil Breakdown
Lots of hummus variations from Jolly Tomato
Roasted Vegetable, Walnut and Green Lentil Hummus from Cooking in Westchester
Hot Guacamole Hummus from A Healthy Jalapeño
Cheezy Hummus from Oh She Glows
Chili Garlic Pumpkin Hummus from Manifest Vegan