Mar 20, 2012
Lemon-ginger quinoa with chickpeas and kale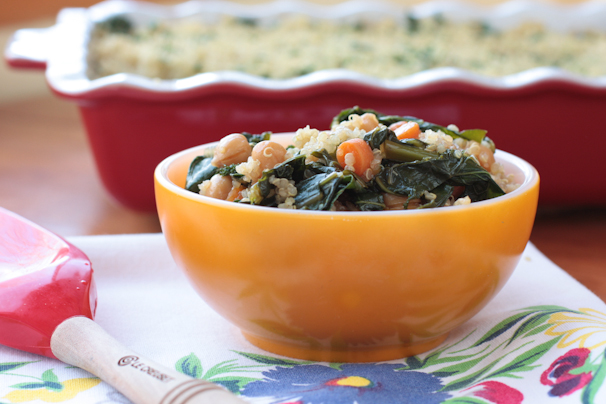 "It's a bit like 70s vegetarian food."
Hmmm, not the most ringing endorsement from my husband.  But then he added:
"But it's really, really good."
OK, that's better. And really, 70s vegetarian food was kind of what I was going for. After I've been eating badly (in this case, too many tacos on my trip to Austin last week), I find myself craving a super "crunchy" meal – something simple and pure that carries absolutely no guilt. But of course, it also has to be delicious.
This comforting kale, chickpea and quinoa dish fits the bill. With these ingredients, it's about as nutritious as it gets. And the lemon juice and zest ensure that it's anything but bland.
Instead of 70s vegetarian, maybe I should call this a detox meal. Or does that sound so 2011?
In any case, I feel better already after eating this dish!

Print

Lemon-Ginger Quinoa with Chickpeas and Kale

1 tablespoon extra virgin olive oil
2-3 cloves garlic, minced
2 teaspoons minced fresh ginger
1 small yellow onion, diced
1 large carrot, diced
1 small red bell pepper, diced
5-6 cups chopped kale
1½ cups cooked chickpeas
1 cup quinoa, rinsed if you don't have the no-rinse variety
2 cups vegetable broth (recommend No-Chicken broth)
¼ cup lemon juice
Zest of one large lemon
1 teaspoon reduced-sodium tamari (use gluten-free if you prefer)
Freshly ground black pepper to taste

Heat the olive oil over medium heat in a large dutch oven. Add onion and carrots, and cook for 5 minutes, stirring. Add the garlic, ginger and red pepper and sauté 3 minutes. Add the greens and cook another 4 or 5 minutes. Stir in the chickpeas, quinoa, broth, lemon juice, lemon zest, tamari and pepper. Bring to a boil, then reduce heat to low, cover and simmer for 15 minutes.

Serves 4