Feb 1, 2012
Quinoa cauliflower cakes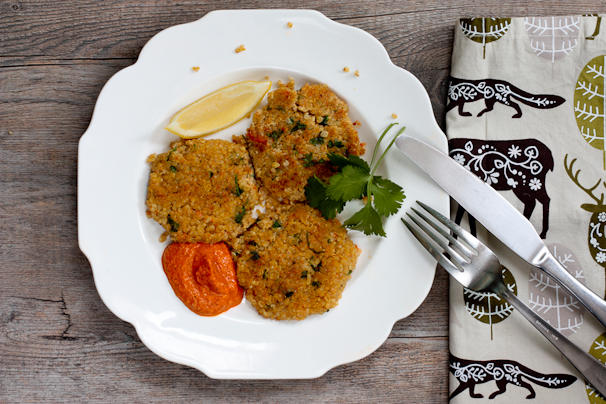 First, I have to thank Jenné from Sweet Potato Soul. Her wonderful Quinoa Cauliflower Cakes were the inspiration for this version.
The idea of using carrots and cauliflower in quinoa cakes is brilliant, from both a taste and nutritional perspective. I chose to cook the vegetables a lot more than the recipe called for – although next time I'll go back and try the original method to compare. I also added my own touches of roasted garlic and lemon zest, and added an egg to help ensure that the cakes held together (thereby un-veganizing the recipe – sorry, Jenné!)
Quinoa cakes have a chameleon-like quality, because they're completely different depending on what type of sauce or condiment you serve them with. I had them with my friend Catie's Romesco sauce made from roasted red peppers, garlic and almonds, and loved it. But they'd also be great with chimichurri, a yogurt dill sauce or just honey mustard, as in the original recipe. The key is to choose a strongly-flavored sauce, as the cakes are somewhat of a blank canvas (and I mean that in the nicest possible way.)
Be sure to have a green salad on the side, because tart, vinegary greens really provide a nice contrast.
This recipe is for Love  Your Heart, a celebration of heart-healthy cooking hosted by Cara's Cravings, Prevention RD, Healthy Food for Living and Super Healthy Kids!


Print

Quinoa Cauliflower Cakes

Adapted from

Sweet Potato Soul

1½ cups quinoa
3 tablespoons extra virgin olive oil, divided
1 medium head cauliflower, broken into small florets
1 cup chopped carrots
¾ cup diced red onions
1 head garlic, roasted, cloves squeezed out
1 large egg
2 tablespoons cornmeal, preferably coarse-ground
1 teaspoon salt
black pepper, to taste
½ cup chopped parsley
Zest of one lemon

Place the quinoa in a saucepan with 2 ¼ cups cold water. Bring to a boil, reduce heat and simmer for 12-13 minutes.

Heat the 1 tablespoon olive oil over medium hat in a large skillet. Add the cauliflower, carrots and onions, and ¼ cup water. Cover and cook for 10 minutes, until vegetables are tender. Uncover and cook, stirring, for five minutes.

In a food processor, puree the cauliflower, carrots, roasted garlic, egg, cornmeal, salt and pepper until mostly smooth. Mix with the cooked quinoa, parsley and lemon zest. Form into patties and place on a plate in the refrigerator for one hour or up to 12 hours.

Heat one tablespoon of oil over medium-high in a large skillet. Fry the patties for several minutes on each side, until golden. Add more oil to the skillet as needed for additional batches.
Serves 6-8