Feb 8, 2012
Dark chocolate bark with almonds and blueberries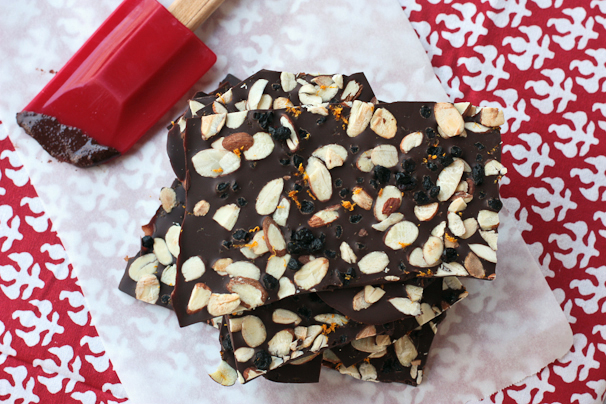 Dear Valentine,
Since Valentine's Day falls in American Heart Month, I thought dark chocolate bark was a particularly fitting gift for you.
Dark chocolate is full of flavonoids and antioxidants, have cardiovascular benefits (and let's face it, your cholesterol could be a little lower.) To amp up the heart health factor even more, I threw some toasted almonds and dried blueberries one top – both can help in the cholesterol department.
For the finishing touch, I sprinkled on some fresh orange zest. Coarse gray or pink sea salt would have also been a delicious choice, albeit not as heart healthy.
As far as homemade Valentine's Day gifts go, I know chocolate bark might seem like cheating – after all, I just melted some chocolate and threw some stuff on top. But I think you'll be floored by the combination of chocolate, nuts, dried fruit and fresh orange zest. The whole is so much more than the sum of its parts. Come to think of it, chocolate bark is a lot like marriage.
XXOO,
Cathy

Print
Dark Chocolate Bark with Toasted Almonds, Blueberries and Orange Zest

12 ounces 70-72% dark chocolate (check to make sure the dark chocolate is vegan; most is)
½ cup sliced almonds, lightly toasted
1/3 cup dried blueberries (wild blueberries if you can find them)
Grated zest of 1 organic orange
Line a baking sheet with parchment paper.
Place two thirds of the chocolate in a glass bowl. Microwave in 30-second spurts until the chocolate is just about melted. Add the remaining chocolate and repeat until the last pieces are nearly melted. Stir with a silicone spatula to finish the melting process. (If you don't have a microwave, you can melt the chocolate in the top of a double boiler.)
Pour the chocolate onto the parchment paper, and spread with the spatula to create a rectangle of about 12 x 8 inches. Sprinkle on the toppings. Refrigerate until hard, then break into pieces and store in an airtight container.