Jan 23, 2012
Spicy butternut squash soup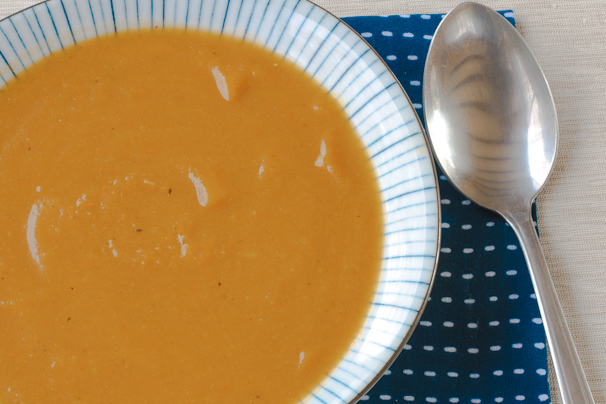 I'm a fan of root vegetable soups that veer toward the savory rather than the sweet (see this one, this one and this one). With today's butternut squash soup, I'm taking things in a spicy direction. With roasted poblano peppers and chipotle powder, the soup has the perfect smoky, spicy undertone – yet the squash is still the star of the show.
This was quite a hit with my workmates who benefited from a sample recently. They were all surprised by the spiciness, and amazed by the cashew cream topping I served it with (sorry, not pictured here). I made them try and guess what the creamy white topping was. The emails were flying:
"Is it yogurt?"
"How about ricotta cheese?"
"Hmm, sour cream?"
Alas, no one got it right – people are always surprised by cashew cream the first time they experience it. This version, with a strong shot of lemon, is the perfect topper for the spicy soup, so I do hope you'll try it.

Print
Spicy Butternut Squash Soup
Adapted from BBC Good Food
2 tablespoons extra virgin olive oil
4 cloves garlic, roughly chopped
2 serrano peppers, diced
2 carrots, chopped  (about 1½ cups)
2 stalks celery (about 1 cup)
2 medium onions chopped
1 poblano pepper, roasted, peeled and diced
1/2 teaspoon ground cumin
pinch ground coriander
1 teaspoon chili powder, preferably ancho
1/2 teaspoon chipotle powder or ¼ teaspoon smoked paprika
1 medium butternut squash, peeled and cubed (about 7-8 cups)
8 cups vegetable stock
Salt and freshly ground black pepper
For the cashew cream topping:
1 cup raw cashews, soaked overnight or for at least a few hours
3 tablespoons freshly squeezed lemon juice
½ cup water
Pinch salt
Drain the cashews and place them in a food processor with lemon juice, water and salt. Process until very smooth (this will take about 5 minutes with a regular food processor). Season with salt to taste.
Heat the olive oil over medium heat in a heavy pot. Saute the garlic, serranos, carrots, celery and onions for 4 minutes. Add the roasted poblanos and spices and cook, stirring, for 2 minutes.
Add the butternut squash and stock. Bring to a boil. Partially cover, reduce heat and simmer until the squash is quite tender, about 30-40 minutes. Let cool for 20 minutes then puree in a food processor or blender until very smooth (a blender will give you a smoother result). Season with salt and black pepper to taste.
Serve with a dollop of cashew cream.
Serves 6