Jan 9, 2012
Onion tart with greens and cashew cream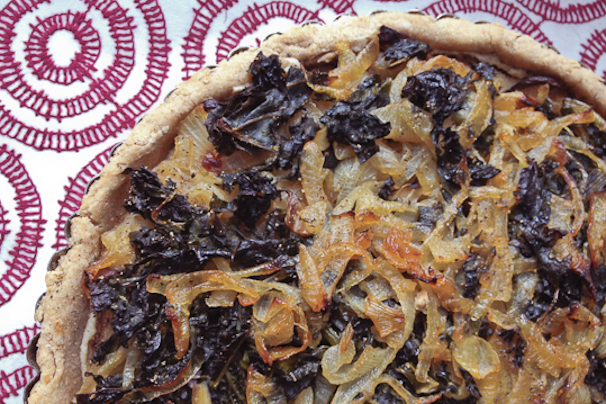 Two things set this vegan and gluten-free tart apart from your run-of-the-mill vegetable tart: a chickpea flour crust and a layer of lemon cashew cream.
I hadn't used chickpea flour much, but I think I found my new obsession. The crust is wonderfully flavorful and has a nice bite. Thanks to Kitchen Operas for the idea.
My twin obsession, cashew cream, provides a delicious underpinning for the vegetable topping. The creamy layer makes this tart rich-tasting, even without cheese.
The crust and cashew cream are essential, but beyond that this recipe is hugely versatile:
– The first time I made it I used Swiss chard and caramelized onions.
– The next time I switched out the chard with leftover cooked kale (pictured above.)
– Another time I added a layer of sautéed shiitake mushrooms. Yum.
– Next time I'm going to use leeks and zucchini. Or maybe cabbage with dill.
The tart is great warm or at room temperature, so you can make it ahead for a brunch or casual supper.
By the way, this is the first iPhone photo I've used on the blog. What do you think?

Print
Caramelized Onion Tart with Greens and Cashew Cream
For the cashew cream:
3/4 cup raw unsalted cashews, soaked in water for 6-8 hrs, drained and rinsed
1-2 cloves garlic
¼ teaspoon salt
1 tablespoon lemon juice
¼ cup water
For the onion and chard topping:
3 tablespoons extra virgin olive oil
4 large yellow onions, halved lengthwise and thinly sliced
½ teaspoon salt
¼ teaspoon black pepper
1 large or 2 small bunches Swiss chard or lacinato (a.k.a. dinosaur) kale, center stems removed, leaves chopped
1 tablespoon balsamic vinegar
For the crust:
1 3/4 c. chickpea (garbanzo bean) flour
1/2 teaspoon salt
1/2 teaspoon dried thyme
1/4 c. extra virgin olive oil
1/4 c. cold water
Puree all of the cashew cream ingredients in a food processor until very smooth and thick. This will take several minutes, and may require scraping down the sides of the processor. If the mixture seems to dry to become creamy, add one or two teaspoons of water as needed.
For the vegetables, heat the olive oil in a large deep skillet or Dutch oven. Cook the onions and salt over low heat for 45 minutes to one hour, until golden and soft. Add the greens and cook until tender, about 4-8 minutes (kale will take longer than chard). Drain off any excess liquid. (Alternatively, just mix in a cup or so of previously-cooked greens.) Stir in the balsamic vinegar.
To make the dough, mix the chickpea flour, salt and thyme. Drizzle the olive oil over the flour mixture and work together with your hands until crumbly. Add the water and mix very briefly, just until dough comes together (add an additional teaspoon of water if the dough seems too dry.)
Flatten the dough into a disk on a floured work surface (I used all purpose flour for the work surface, but you can use a gluten-free flour.)  Roll it out with a rolling pin to about 1 inch larger than the diameter of your tart pan.
Loosen the pastry by slipping a pastry lifter or metal spatula underneath. Fold in half and carefully transfer to the tart pan, pressing it into the bottom and sides.  Trim off any excess.
Heat the oven to 400 degrees. Cover the crust lightly with foil (don't press), add some dried beans or pie weights and bake for 10 minutes. Let cool slightly.
Top the partially-baked crust with the cashew cream, then the onion and greens mixture.  Return to the oven and bake for 20 minutes longer. Serve warm or at room temperature.
Serves 6