Jan 17, 2012
Lentil salad with roasted red peppers, olives and almonds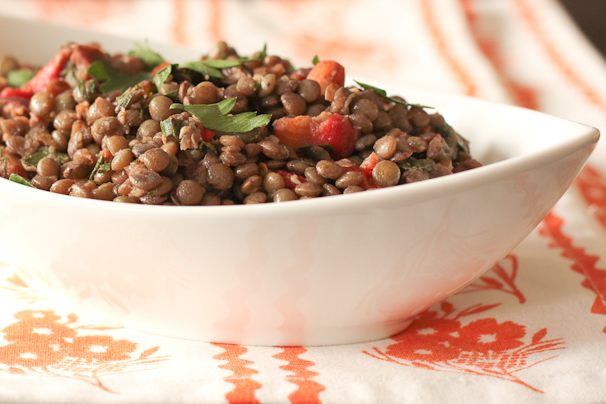 I like to think of this as the Mediterranean diet in a bowl! (Well, it doesn't include fish but otherwise it's right on.) Lentils are a heart health superfood, because not only does their fiber help prevent heart disease, they also contain folate and magnesium which have significant cardiovascular benefits.
A lot of people who think they don't like lentils have only had regular brown ones. They may be surprised to find that French green lentils have a less mealy texture and a more delicate, peppery flavor. So if you are a lentil skeptic, it's time to give these delicious legumes another shot. This French lentil salad is a great place to start. With red peppers, olives and almonds, it's a little sweet, a little salty and a little crunchy.
I would usually add garlic and onions or shallots to a salad like this. But I skipped it this time and was really happy with the result, as it let the other flavors shine. You don't really need anything competing with roasted red peppers and olives!
Feel free to tweak this recipe – it's a hard thing to screw up. You can use lemon juice instead of vinegar, sun-dried tomatoes instead of roasted red peppers, or fresh basil instead of dill. But do use the almonds no matter what, as the crunchiness and toasty flavor make this one irresistible salad.
My husband Tim likes this better as a warm dish rather than a cold one. So that's another variation for you – just eat it right away.

Print
Lentil Salad with Roasted Red Peppers, Olives and Almonds
1¼ cups French green lentils
½ cup chopped roasted red peppers
½ cup sliced pitted kalamata olives
1/3 cup chopped Italian parsley
1 tablespoon chopped fresh dill
1/3 cup chopped raw almonds, toasted
2 tablespoons red wine vinegar
¼ cup extra virgin olive oil
¼ teaspoon salt, or more to taste (I like flaky Maldon salt here, rubbed between your hands)
Freshly ground black pepper, to taste
Rinse the lentils thoroughly. Put them in a saucepan and cover with cold water by a few inches. Bring to a boil, then reduce the heat and simmer for about 25 minutes, until the lentils are cooked but still nicely chewy (you don't want mushy lentils.)
Drain the lentils and place in a serving bowl along with the red peppers, olives, parsley, dill and almonds. Gently stir in the red wine vinegar and let sit for a few minutes. Add the olive oil, salt and pepper. Serve warm or refrigerate for several hours and bring to room temperature before serving.
Serves 4

Other great lentil salad recipes from some of my favorite chefs and bloggers:
Lentil Salad from Marcus Samuelsson (interesting, with figs and pumpkin seeds)
Black Quinoa and Red Lentil Salad with Parsley from Healthy Green Kitchen
Colorful Lentil Salad with Walnuts and Herbs from The Kitchn
Lebanese Lentil Salad with Garlic, Cumin, Mint and Parsley from Kalyn's Kitchen
Warm Lentil Salad with Caramelized Onions and Brussels Sprouts from The Taste Space