Dec 19, 2011
Spicy Spiced Nuts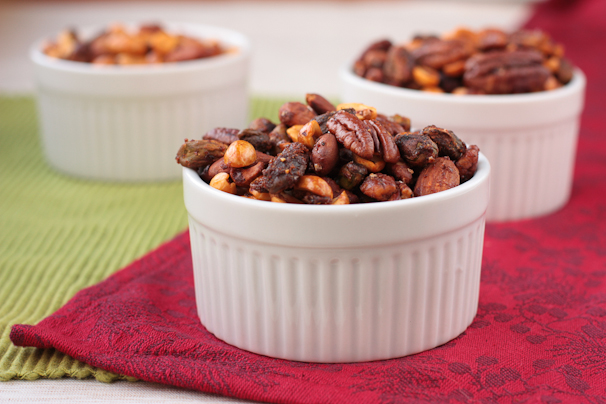 Spiced nuts are a ubiquitous holiday party nibble. I always get excited to dig in, only to find that the nuts are so sweet they might as well be on the dessert table. Some are made with butter, which is a no-no for my heart-healthy diet. And many aren't very spicy at all – so why call them spiced nuts?
That's why I created a vegan spiced nut mix that's just barely sweet, and has a real kick to it. It took me several tries to get the spice combination just right – we were eating nuts for days on end. It was a worthwhile exercise, because the end result was amazing. The cumin, chili powder and smoked paprika create a smoky and spicy party in your mouth! I hereby pronounce these my new favorite snack.


Print
Spicy Spiced Nuts
1 teaspoon chili powder, preferably ancho (if you use a regular supermarket chili powder, cut down the cumin below)
1 teaspoon smoked paprika
3/4 teaspoon ground cumin
½ teaspoon ground black pepper
1/2 teaspoon cayenne pepper, or more to taste
3/4 cup pecans
3/4 cup raw almonds
1/2 cup dry roasted peanuts
½ cup raw pistachios
2 tablespoons extra virgin olive oil
2 tablespoons agave nectar
½ teaspoon coarse salt (I like Maldon sea salt on these)
Heat the oven to 325 degrees.
Mix the spices in a small bowl and set aside. In a separate bowl, mix the olive oil and agave.
Spread the nuts on a large baking sheet and roast for about 12 minutes, until they start to get toasty and aromatic.  Watch them carefully to make sure they don't burn.
Remove to a bowl and toss with the olive oil mixture, stirring well. Add the spices and stir briefly. Return to the tray and roast for another 2-3 minutes. Remove from the oven, sprinkle with salt to taste and cool before serving.