Nov 18, 2011
Mashed potatoes with celery root and parsnips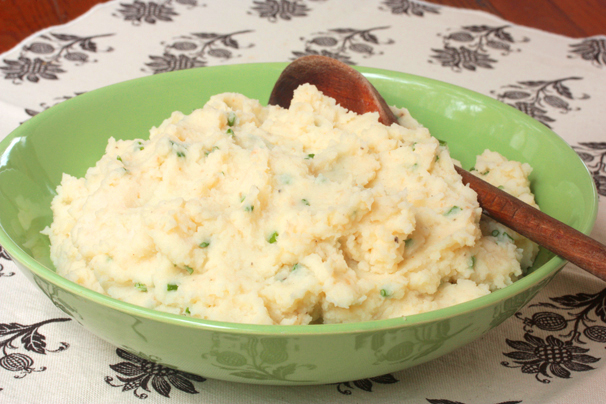 I'm bringing back my mashed potatoes and celery root from last Thanksgiving, but with a little twist. I've added parsnips to the equation and they make this dish better than ever.
As I said back then, the typical holiday mashed potato recipe contains nearly a stick of butter, along with whole milk or cream. Not exactly on my heart-healthy diet plan. So I substitute low fat buttermilk or soy milk and heart-healthy olive oil. Replacing some of the potatoes with other root vegetables lightens up the dish and creates a new depth of flavor.
Don't be afraid that your more traditional family members will stick up their noses at the celery root and parsnips – these are still very much mashed potatoes – and they're the perfect foil for gravy (like my delicious vegan gravy!)
You'll feel a lot less stuffed when you eat potatoes like this instead of the usual heavy, artery-clogging version. You might not even be groaning in pain after your Thanksgiving dinner!
Note: Yes, I've used the same mashed potato photo here as last year … because, well, they look exactly the same!

Print
Mashed Potatoes, Celery Root and Parsnips

2 1/2 pounds russet or Yukon gold potatoes, peeled and cut into large chunks
1 large celery root (about 1¼ pounds), peeled and cut into 2-inch chunks
4 medium parsnips, peeled and chopped into chunks
3 cloves garlic, peeled
¼ cup extra virgin olive oil
1/2 to 3/4 cup milk of choice: reduced-fat buttermilk or soy milk, at room temperature
2 tablespoons minced fresh chives
½ teaspoon salt, or more to taste
Freshly ground black pepper to taste
Place the celery root, parsnips, potatoes and garlic in a large pot and cover well with water. Bring to a boil, then reduce heat and simmer until vegetables are all tender, about 20 minutes.
Drain, return to pan and shake over high heat for 20-30 seconds to evaporate the moisture. Put through a ricer or mash well with a potato masher. Continue to mash as you add the oil, then the milk, adding the milk gradually until you get the texture you prefer. Stir in chives (if using), salt and pepper.
Serves 8