Nov 17, 2011
Healthy Green Bean Casserole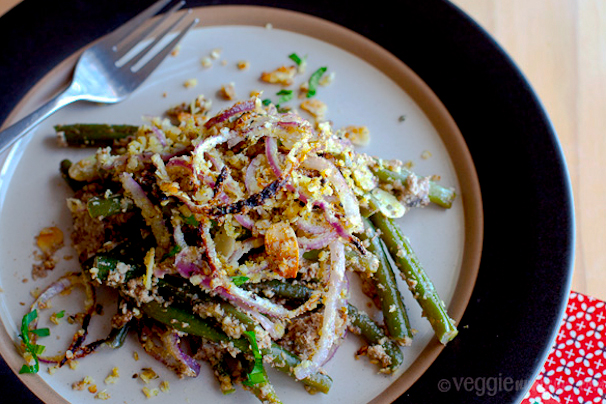 I'm thrilled to bring you a guest post from one of my favorite bloggers, Trudy from Veggie num num. Because Trudy is Australian, she wasn't that familiar with American Thanksgiving dishes. So I pointed her to the traditional green bean casserole, usually loaded with saturated fat and sodium, and topped with deep-fried onions. I'm sure making a healthy version was a major challenge, but she really came through. Her casserole is creamy and mushroom-y, and has a great crispy topping – yet it's totally heart-healthy. Brilliant!

What a wonderful idea to provide healthy and tasty recipes for everyone to enjoy this holiday season! I love Cathy's flair and enthusiasm for bringing honest healthy food to the table and sharing wonderfully delicious recipes on What Would Cathy Eat.
I'm so happy to be guest posting here today and sharing my version of the traditional green bean casserole. I only hope that as an Aussie I managed to rec-create a dish you'll love to share with your family this Thanksgiving.
Farm-fresh greens bean are layered with sautéed mushrooms and a creamy walnut sauce and topped with crispy baked red onions tossed in quinoa flakes and almonds. I hope you'll enjoy this tasty and healthy casserole. And thanks so much Cathy for the opportunity to share a little recipe with you all. Happy Thanksgiving!!


Print
Green Bean & Mushroom Casserole
For the casserole filling:
1 pound (550g) fresh green beans
3½ ounces (100g) raw walnuts, soaked (preferably overnight or for at least 30 minutes)
1 tablespoon tahini paste
1 cup non-dairy milk (I used rice milk; use dairy milk if you prefer)
½ pound (240g) cremini or button mushrooms, sliced
2 garlic cloves, minced
1 tablespoon organic canola oil
1 tablespoon extra-virgin olive oil
½ teaspoon tamari or soy sauce (use tamari for gluten-free version)
¼ teaspoon cayenne pepper
1 tablespoon plain unbleached flour (use sweet rice flour or a gluten-free flour mix for a gluten-free version)
2 bay leaves
For the topping:
1 medium red onion, sliced into thin rounds
½ cup quinoa flakes
¼ cup flaked (sliced) almonds
2 teaspoon dried marjoram
2 tablespoons extra virgin olive oil
Heat the oven to 350 degrees (176°C).
Top and tail the green beans and steam for about three minutes, until bright green. Remove from heat and plunge into a bowl of ice water. Drain and set aside.
Prepare the topping: Separate the sliced onion into rings and toss with the quinoa flakes, almonds, olive oil and marjoram.
Drain the walnuts and blend in a food processor with the tahini and half the milk, until smooth and creamy.
Heat the canola and olive oils over medium heat in a heavy-bottomed saucepan. Add the garlic and cook for one minute. Add the mushrooms, tamari or soy and cayenne pepper. Continue to toss, cooking the mushrooms evenly until soft and golden. Add the flour and cook, stirring, over a low heat for one more minute.
Add the walnut mixture, the remainder of the milk, and bay leaves. Bring to a very gentle simmer and allow to reduce and thicken over low heat for a few minutes, stirring. Once the sauce has thickened, season with fresh cracked pepper and sea salt to taste, and remove the bay leaves.
Arrange the steamed green beans in a good-sized casserole dish, top with the mushroom sauce and then the onion topping.
Bake for around 20 minutes, until it's bubbling hot and the top is nicely golden.
Serves 6-8 as a side
Other healthy green bean recipes you might like: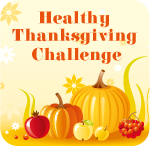 Join the
Healthy Thanksgiving Challenge!