Nov 21, 2011
Butternut Squash, Caramelized Onion and Mushroom Galette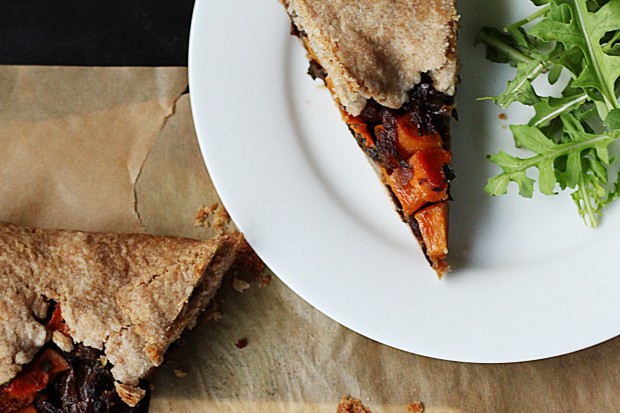 To top off the Healthy Thanksgiving Challenge, I'm excited to bring you a butternut squash galette from the wonderful Stacy of Little Blue Hen. When I finally met Stacy in person at the International Food Bloggers Conference in Santa Monica last weekend, she told me her idea for this tart and I haven't been able to stop thinking about it since. I love the interplay between the earthy mushrooms and the sweet onions and squash. And I would have never thought of using rye flour in a tart crust – great idea.
Stacy pointed out that she broke one of the rules laid out in my 10 Tips for a Heart-Healthy Thanksgiving by using Earth Balance, but that's quite alright. Rules are made to be broken!  My usual oil crust can't be easily folded over for a tart like this, so Stacy's crust makes sense for the job. Enjoy.
The sole vegetarian in my family, Thanksgiving dinner meant mashed potatoes and a dinner roll. The potatoes and rolls were good, but they wouldn't fill a cornucopia, much less convince me that this was a celebratory meal.
When Cathy contacted me about writing a post for her Healthy Thanksgiving Challenge, however, the timing was perfect. My husband and I bought a house this summer and it's our first year hosting Thanksgiving. We're having 8 people over, including some friends, our 4-year-old niece, and my sister-in-law who is allergic to dairy.
Drunk with power at the prospect of complete menu control, I envisioned a centerpiece-worthy vegetarian dish (it ended up vegan to remain dairy-free). Caramelized onions, sautéed mushrooms, and roasted butternut squash tossed with sage are nestled in a flaky rye crust for a festive and flavorful whole grain galette. The sweet squash and onions, hearty mushrooms, and dusty sage are balanced with just enough salt and a flavorful pastry that will satisfy even a meat-eater. Add some green beans for contrast, and you won't even miss the turkey.
Bonus feature: everything can (or even should) be made up to 3 days in advance. It's easily assembled and baked the day of.

Print
Butternut Squash, Caramelized Onion and Mushroom Galette
Use your favorite crust recipe if you have one, but I liked the nuttiness of the rye flour from this recipe adapted from Kim Boyce's elegant Good to the Grain. The dough comes together much like pie crust; I used my food processor which is described in the recipe. To un-veganize it, just use butter. It would also be good with a little Fontina or feta cheese. (Vegan, Vegetarian, Dairy-Free)
Rustic Rye Dough
Ingredients:
1 cup rye flour
3/4 cup unbleached all-purpose flour
2 teaspoons sugar
1 teaspoon kosher salt
4 ounces (1 stick | ½ cup) vegan margarine such as Earth Balance, cold
1 teaspoon apple cider vinegar
Directions:
1.) Sift together dry ingredients. Add to food processor bowl.
2.) Cut butter into ½ inch pieces and add to dry ingredients. Pulse to combine, about 15 seconds. Butter should be slightly broken up but need not be uniform.
3.) Add vinegar. Add 6 tablespoons of ice water and pulse to combine. Pinch a piece of dough between your fingers; if it's crumbly, add more ice water, one tablespoon at a time.
4.) When the dough stays together when pinched, scrape it onto a piece of plastic wrap, sprinkle a few drops of ice water on top, and wrap it tightly. Refrigerate for at least an hour, or overnight.
5.) After the dough has chilled, turn it out onto a floured surface. Shape it into a square and roll it into a rectangle about 8×11 inches. It's ok that the dough is ragged, it will come together.
6.) Fold the dough in thirds like a letter. Rotate the dough so that the seam is farthest away from you. Roll the dough out into a 8×11-inch rectangle again and fold it a second time. Rotate, roll, and fold a third time, then wrap the dough in plastic wrap and refrigerate for an hour, or up to 3 days before baking.
Filling:
Ingredients:
1 small butternut squash, approximately 1 pound
1 medium yellow onion, sliced into half moons
12 ounces fresh mushrooms, sliced (I used cremini and oyster)
2 tablespoons olive oil, divided
1 teaspoon kosher or coarse sea salt, divided
1 teaspoon rubbed sage, or 1 tablespoon fresh minced sage leaves
Optional: ¼ cup dry white wine
Directions:
1.) Preheat oven to 375F. Peel the butternut squash, cut it in half length-wise, and scoop out the seeds. Dice the squash and place in a shallow baking dish. Drizzle with a teaspoon or so of olive oil and stir to coat. Bake at 375 for 20 minutes or until tender.
2.) While the squash bakes, heat 1 tablespoon of olive oil over medium heat and add onion slices. Add ¼ teaspoon salt. Stir to coat. Cook, stirring occasionally, about 30 minutes. Add about ¼ cup of water to deglaze the pan.
3.) Heat the remaining 2 teaspoons of oil in a skillet and add the sliced mushrooms. Cook over medium heat, stirring occasionally, about 15 minutes until mushrooms are amber. Add ¼ cup of wine, if using, and stir until reduced.
4.) Combine squash, onions, and mushrooms. Sprinkle with sage and ¾ teaspoon of salt, mix well.
5.) At this point you can refrigerate the fillings, or you can assemble and bake the galette.
Assemble and bake:
1.) Preheat oven to 400F. Line a large baking sheet with parchment paper or a silicone baking mat.
2.) Unwrap chilled dough on a floured work surface. Roll into a circle about 14 inches across, turning frequently. Use a bench scraper to transfer the dough to the prepared baking sheet.
3.) Pour filling into the center of the dough and spread out about 9 inches across. Fold extra dough over the edge, pleating roughly. It doesn't have to be elegant – it's supposed to be rustic and homey.
4.) Bake galette at 400F for 30-40 minutes until crust is golden brown. Slice and serve hot, warm, or at room temperature.
Serves 6-8 as part of a Thanksgiving meal