Nov 14, 2011
Braised red cabbage, beets and leeks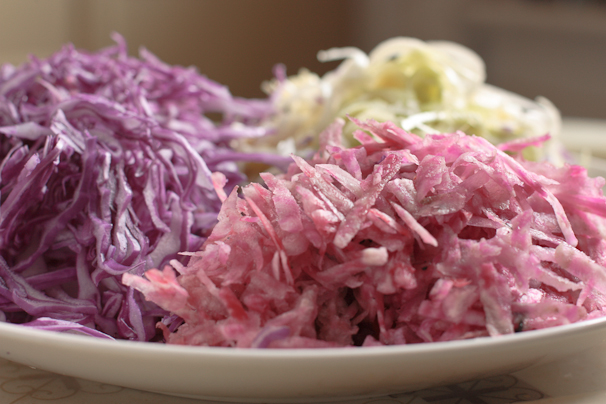 Cabbage and beets are truly under-appreciated vegetables. Which is a shame, because they are both tailor-made for Thanksgiving! The dish I'm sharing today is not only easy to prepare, it can be made in advance and brings both color and nutrition to the holiday table.
I usually make red cabbage with apples, but here I've married cabbage with beets and leeks. Some full-bodied red wine and a hint of maple syrup add just enough sweetness to balance out the earthiness of the vegetables.
I like this cooked until the vegetables are very soft, but if you cook it a long time, the color of the cabbage does fade a bit (hence the raw ingredient photo here.) You can cook it less if you want the cabbage to keep more of its texture and color. But in any case, no one will be complaining about the aesthetics when they're wolfing this stuff down on Thanksgiving. I made a huge amount of it for my pre-Thanksgiving dinner the other day, and my friends kept on going back for more.
Note that the beets in the photo are pink and white stripped chioggia beets because I grew those – but if you use red ones your dish will have a deeper color.

Print
Braised Red Cabbage, Beets and Leeks
3 tablespoons extra virgin olive oil
3 large leeks, thinly sliced
1 medium head red cabbage, thinly sliced
3 medium red beets, shredded on the large holes of a box grater
1/2 cup balsamic vinegar
1½ cups water
2 tablespoons maple syrup, or more to taste
1½ cups full-bodied red wine (I used a Primitivo)
¼ teaspoon ground nutmeg
½ teaspoon salt
Freshly ground black pepper, to taste
Heat the olive oil over medium heat in a large pot. Add the leeks and cook, for about 3 minutes, until leeks are softened. Stir in the cabbage and cook for 3 minutes, stirring frequently.
Add the remaining ingredients. Bring to a boil. Cover and simmer gently for 25-40 minutes or until the cabbage as tender as you like it. Taste it and see if you think it needs a little extra oomph – if it does, toss in a tablespoon or two of balsamic vinegar during the last minute of cooking time.
Serves 8

A few other great red cabbage recipes you should check out: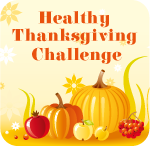 Join the
Healthy Thanksgiving Challenge!