Sep 7, 2011
Roasted Fresh Tomato Soup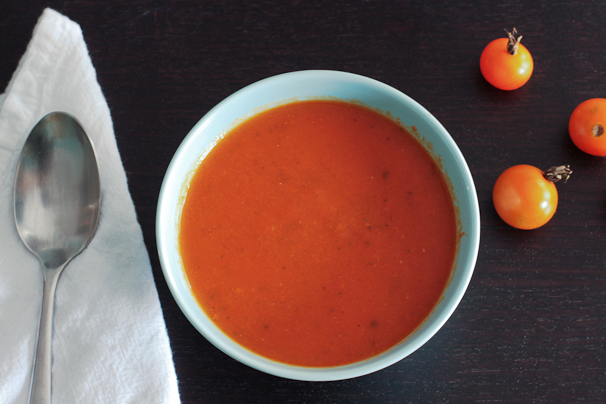 It's been a few years since I've eaten tomato soup, but looking at my giant pile of tomatoes from the garden this morning, I could think of nothing else.
To deepen the flavor of this soup, I roasted the tomatoes, along with shallots and garlic. Some fresh herbs provided the perfect accent. I used a mixture of plum and regular heirlooms – plus a few yellow Sungold cherry tomatoes, all from my garden. Just be sure you don't make this with regular old supermarket tomatoes – the key here is to use the most perfectly fresh and ripe specimens you can get your hands on.
Every time I took a slurp of this soup, I couldn't help myself from exclaiming, "Oh my God, this is sooooo good."  I think my husband got tired of hearing that over and over!
Best of all, it freezes very well – so I plan to make a big vat this weekend and freeze small portions. I can only imagine how amazing it will be to taste summertime in the dark days of winter. Hey, this could be the cure for seasonal affective disorder.

Print
Roasted Fresh Tomato Soup
4-5 pounds fresh ripe tomatoes, sliced in half (I like mixing plum and regular ones)
5 cloves garlic, peeled
3 large shallots, peeled and sliced in half lengthwise
2 tablespoons olive oil
¼ teaspoon salt
¼ teaspoon freshly ground black pepper
2 cups vegetable stock
2 cups water
1 teaspoon fresh thyme
1 large handful fresh basil leaves
1 teaspoon agave nectar
Heat oven to 425 degrees. Toss the tomatoes, garlic and shallots with the olive oil. Place on a baking sheet, with the tomatoes cut side up. Bake for 45 minutes.
Transfer the tomatoes, garlic and shallots (along with any accumulated juices) to a large saucepan. Add the remaining ingredients.
Bring to a boil, then reduce heat and simmer for 20 minutes.
Puree in a blender or using an immersion blender. Add salt and pepper to taste.
Serves 4