Sep 20, 2011
Chile-baked beans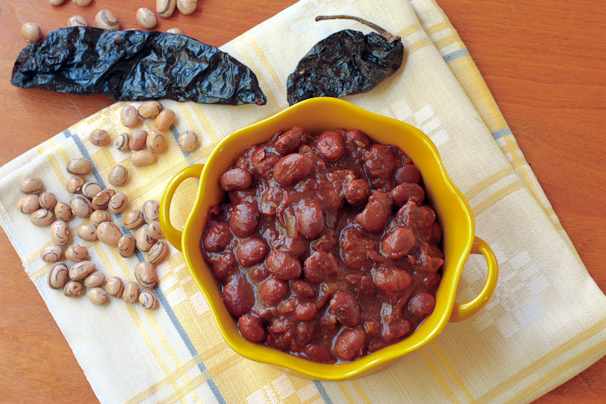 I thought the last baked beans I made were really good. But today, my friends, I have a new baked bean love.
I wanted to make something different than regular old beans, so I decided to add pasilla chiles and canned chipotles in adobo sauce. Truth be told, I was a little worried that the result would simply taste like baked chili, but that's not the case at all. (Whew!) While there's a definite chile undercurrent, these are still very much baked beans, with the sweetness of molasses and the tang of vinegar and mustard.
One thing that made these so special was the variety of beans I used. Goat's Eye Beans (available from Rancho Gordo) are round and meaty with a nice smooth texture. The "pot liquor" from cooking them was dark and aromatic, and added a serious depth of flavor to the baked beans. Having said that, I'm sure they would still be delicious made with a more traditional bean.
If you've never made baked beans from scratch, you've really got to do it. They're about a thousand times better than anything from a can. Need more reasons to eat them? They're economical. They're easy to make. And of course, they're nutritious. While they do have some added sugar, baked beans make for a hearty, healthful meal, full of fiber and high in folate and iron.
My chile-baked beans would be perfect with some cornbread and sauteed greens. This weekend I served them with healthy burgers, corn and salad, and my guests couldn't stop raving about them. Five of us nearly finished off the whole batch!
And speaking of beans, be sure to enter the My Legume Love Affair recipe event I'm hosting this month.

Print
Chile-Baked Beans
1 pound dried Goat's Eye beans (or substitute another bean such as Great Northern, Jacob's Cattle, Yellow Indian Woman or Yellow Eye)
2 small dried pasilla chiles (or substitute ancho chiles)
2 tablespoons olive or organic canola oil
1 large yellow onion, diced
2 cloves garlic, minced
2 chipotle chiles in adobo sauce, finely chopped
4 to 6 fresh ripe plum tomatoes, peeled and chopped – about 1 cup (or substitute 1 cup canned tomatoes, well chopped)
1 tablespoon Dijon mustard
¼ cup dark brown sugar
¼ cup molasses
1/4 cup cider vinegar
3 shakes Tabasco sauce
½ teaspoon salt, more to taste
Soak the beans overnight, or use the quick soak method (bring the beans to a boil in a pot of water, boil 2 minutes, cover and remove from heat for 1 hour. Drain.)
Place the soaked beans in a large saucepan and cover with water by 2 inches. Bring to a boil, reduce heat and simmer until nearly tender, about 30 minutes to 1 hour or more depending on your beans. Drain the beans, reserving the cooking water.
Sear the dried chiles in a hot dry pan (not nonstick) for about 30 seconds on each side, pressing down with a spatula. Stem the chiles and remove the seeds. Place in a bowl, cover with boiling water and let sit for 20 minutes. Drain, reserving 3 tablespoons of the soaking liquid. Puree the chiles and the soaking liquid in a food processor.
In a large bowl, combine the oil, onions, garlic, chipotles, tomatoes, mustard, brown sugar, molasses, vinegar, Tabasco, pureed chiles and salt.
Place the cooked beans in an ovenproof pot. Gently mix in the mixture from the bowl. Add enough bean cooking liquid to cover well (I used 1½ cups.)
Cover and bake at 300 degrees for 3 1/2 hours, checking occasionally to make sure the beans aren't getting too dried out – add more bean cooking liquid or hot water if they are.
Taste and add additional salt if you feel it's needed, and bake uncovered for an additional 30 minutes.
Serve warm or at room temperature. (Note that the beans will thicken significantly as they cool, so if they are too dry, add more liquid and reheat.)
Serves 8